How to write a business plan
Having a great business plan is crucial for all small businesses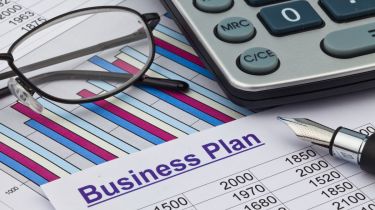 So what is a business plan and why do I need one?
Creating a business plan can be a daunting task, whether you're starting up a one-man delivery business, or have a grand idea that you want to turn into the next Amazon. But it's really quite a simple process, and a good business plan is vital if you want to secure financial support from your bank or outside investors. Better still, a clear, well-constructed plan will help you to stay focused on your own targets and give you a firm idea of how to run your business. It can even help you to convince important customers or suppliers to support you.
What makes a business plan?
A full-blown plan is normally split into 10 parts, but how long each section is will depend on your personal business needs. Here, we've briefly summarised each section.
Executive summary This is absolutely vital for a good business plan. It's what your bank manager will read first (even though you'll most likely write it last), so it's crucial that it makes a good impression. In it, you need to make sure that you briefly cover:
• What you are doing, making or selling• The gap in the market that you want to fill• How much money you will make• How much money you will need to borrow• Who will run the business• Information about your professional background
The business Spell out exactly what you plan to offer.
The industry Who are your main competitors? How big is your market?
Marketing How do you plan to sell or advertise your product or service?
Management Who is in charge, and how is the business structured? (Even if you're a one-man operation you'll need to explain this.)
Operations Explain how you'll provide your service (for example, whether it will work via house calls, from a warehouse or from a retail premises.)
Financial forecasts Here you'll need to detail your projected cashflow, profit and loss accounts and even your projected balance sheets for the first two or three years of business.
How much finance you require State how much you'll want, when you need the money and - if the finance will be a loan - say how you plan to pay it back.
Risks Show that you understand the risks of your business, and state how you would tackle them if they became an issue.
Appendices If there is any extra detail that you can go into (for example, statistics, extra plans or market research that you've made), add it here.
How long should a business plan be?
The length of your business plan depends on who it's aimed at. If it's simply for your own use, then its length will be influenced by the needs of the business, and your own preferences.
If it's for a third party (a potential investor, a lender or even an important prospective client), don't be scared to ask them what information they need from you: it will help speed up the process. And dialogue is a good way to build a strong business relationship, particularly with investors.
But the most important audience for your business plan – especially if you're starting a small business from scratch - is a commercial lender. In this case, the devil is very much in the detail. A commercial lender will naturally need reassurance that they'll get their money back, while an investor will want a return on their capital at some point, too. If you're vague in your business plan, they might worry you're too vague about the business itself.
In short, if you forget to explain about the nuts and bolts, lenders or backers will become concerned that your business idea will fall apart.
Presenting your business plan
Whoever you're looking for financial support from, when you present your business plan you need it to be three things: concise, professional and slick.
• Keep it short and sweetThe more effort and detail that you've gone into when creating and preparing your business plan, the better it will be. But when you're presenting it to someone else, it needs to be as short and sharp as possible. So focus on your key points - potential backers might well be put off or lose interest if you overwhelm them with statistics and unnecessary details.
• Make it look professionalYou don't need to be a Photoshop or PowerPoint expert to make your business plan look great - no-one will expect it to replicate the cover of a glossy magazine. But it's vital that it looks smart, so think about how you're going to design it, and remember to include both a cover and a contents page.
• Be preparedDon't forget that you're selling yourself as well as your business idea here, so if you're making a presentation in person, dress smartly. If you get the opportunity, rehearse your presentation in front of friends or family, and ask them for their honest opinion.
If you're struggling with your business plan, look for help
All kinds of tips and advice for putting together a business plan are available online. A simple Google search will show you just how much assistance is out there, but here are a few places to start:
• Businessballs.com business plans
• Barclays business plan guide
• BBC advice on writing a business plan
The Government's own website also has some useful hints and tips. Here, you'll find links to a free business plan template devised by Microsoft, as well as a series of sample business plans.
Once it's done
Don't file and forget it – businesses and the environment in which they operate change constantly, so you'll need to review your plan regularly. There are all sorts of reasons for this: one of your financial backers might want to pull out, a key rival might dramatically shift its business if it views your arrival on the scene (or expansion in the marketplace) as a threat, or the general economic climate could change.
Any one of these issues could leave your original strategy poorly suited to the new situation you find yourself in. But by regularly revisiting - and if necessary adjusting - your original plan, you'll be helping to keep your business on track.