How to finance your van
There are lots of finance options available: follow our guide to find the best for you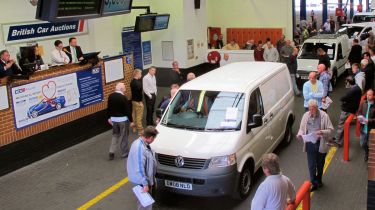 In a small business, buying and running a van is often both necessary and expensive, so picking the best way to finance it can be absolutely crucial.
Whichever option you choose will depend on the specific needs of your business, as well as your personal circumstances. In general, though, there are three main ways to get a van for your business: buying, leasing, or via a personal contract purchase (essentially leasing for a period of time, with the option to buy at end of a fixed term).
Buying
Undoubtedly the simplest and most obvious way of getting hold of a van for business use is to buy it outright.
The advantage of this is that it's then yours to do with as you wish; you have complete control. You can service it where you like, insure it with whichever company you wish, and keep it for as long or a short a time as you need - some or all of these areas might be subject to certain restrictions with lease or contract purchase agreements.
But although buying a van in this way provides you with flexibility in certain respects, it can prove a burden in others.
The biggest issue will be selling the vehicle on; alternatively, with a lease deal you'll never have to worry about depreciation, or the hassle of finding a buyer before you can get a replacement van.
Another problem is capital. Not only will you have to find a large chunk of cash to fund your van in the first place - hardly an easy task for many start-up businesses, where cash is inevitably tight - but you'll also have the hassle of unpredictable costs. In contrast, finance or lease deals allow you to know exactly what your monthly payments will be; the same goes for the likely cost of replacement.
There's also the question of maintenance. Lease or hire-purchase deals are typically three-year contracts (and rarely extend beyond five years), during which time the vehicle is generally covered by a manufacturer warranty, and after which you will most likely get a new van.
If you've bought a van, however, it tends to make more sense to keep it for longer, as this mitigates against heavy initial depreciation. The downside is that you'll inevitably face higher long-term servicing and repair bills.
To further tempt you away from buying your van outright, some hire purchase or lease deals will also cover the cost of routine servicing (although van manufacturers sometimes offer fixed-price servicing deals, however you pay for your vehicle).
Leasing
When you lease a car or a van, you never actually own it. Instead, you are only hiring it for the length of the lease contract. After this, most deals will give you the option of buying the vehicle outright, or you can simply take out a new lease on a brand-new van.
The main advantage of leasing a van is that you can accurately predict the costs over the course of your lease period, a financial stability that can be vital to a new business.
If you own your van outright, however, you or your business has to assume the financial responsibility for a depreciating asset. The vehicle could lose more or less value than you predict over the course of your ownership, depending on the condition of both the van itself and the secondhand-van market when you come to sell.
Of course, there is a price to pay for this financial stability. During your lease contract (normally two to five years), you'll generally pay more than the value of a brand-new van, minus its value at the end of the lease contract (ie the depreciation); it's how leasing deals make money. That said, the additional amount that you pay is likely to be considerably less than the cost of the interest on a non-secured loan.
If you're considering leasing a van, it's also worth remembering that you'll have to pay an initial deposit, but it will be quite small. Bigger deposits can mean that your monthly repayments will be lower. Plus, some companies might run zero-deposit deals from time to time.
Personal Contract Purchase
This is somewhere between a lease deal and buying outright. As with a lease agreement, you'll generally pay an agreed monthly rate over a fixed term, plus a deposit beforehand. However, unlike a lease agreement, a PCP means that you will own the vehicle outright at the end.
Monthly repayments on PCPs tend to be quite small, because you'll normally pay a large final lump sum at the end to take full ownership of the vehicle.
You're not required to pay this figure and take ownership, however - you can simply hand the van back at the end of the contract and start the cycle all over again. It's this flexibility that's at the core of a PCP deal.
A hire purchase (HP) agreement is similar to a PCP: a dealer or broker will extend you a loan secured against your van, which you pay off in monthly instalments, with a deposit beforehand and a lump sum at the end. The difference is that you won't have the option to hand the van back: you must pay the lump sum.