Working safely with your van
Be prepared for all eventualities with our guide to staying safe on the road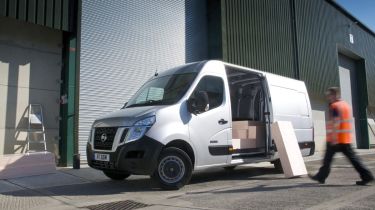 If you use your van for work - or even if you don't - accidents can easily happen, so you need to take steps to ensure they don't, or be prepared to react effectively if they do.
Whether you're involved in a crash, yourself or a colleague sustain an injury while you're out on a job, or you get stung by a wasp; taking a few simple precautions can make sure that you're as safe as possible.
Be prepared
• First-aid kitsAlways ensure that you have a well-stocked first-aid kit, including bandages, plasters, burn dressings, antiseptic wipes and antiseptic cream. You can put this together yourself, or buy ready-made packs from chemists or motoring specialists such Halfords.
• Fire extinguishersMake sure you that you have a fire extinguisher stored in the cabin, and preferably a spare in the load area, too.
• Extreme weatherIn winter you could get stuck in snow, so you should carry warm blankets and a shovel with you at all times. When on a long journey in cold weather, you should also consider packing emergency food rations.
You'll need to prepare your van for the winter, too, so top up the antifreeze level in the radiator, and the windscreen-washer reservoir. It's worth considering fitting winter tyres, too, or carrying a set of snow chains.
In the summer, be prepared for hot weather by carrying plenty of drinking water on board, and check that your radiator is properly topped up.
• Vehicle repairsYou should make sure you have suitable breakdown cover so that you don't get stranded at the roadside, but in case the worst happens it's a good idea to carry a few basic tools with you, as well as a pair of jump leads, so that you can fix any minor problems yourself.
• Equipment and cargoBefore setting off, be sure that everything in the cargo area is properly secured. Loose tools and other goods could cause a lot of damage to you or your vehicle in the event of an emergency stop.
If you are involved in an accident
If you, a passenger or a third party are injured in a crash, call an ambulance. Don't move an injured person unless there is an immediate danger of the vehicle catching fire (or is otherwise unsafe), or if you have been trained in first aid and are confident that it is safe to do so.
In less serious incidents (ie where no one is injured), it's worth calling the police if you are blocking a busy road or are stranded in a dangerous position.
Another important point to remember in an accident with a third party is to never admit fault. Exchange insurance details with the other driver, take photographs on your phone if you can, and let the respective insurance companies sort out the claims.