Record number of vans on UK roads
Latest SMMT figures show number of vans on UK roads has hit an all-time high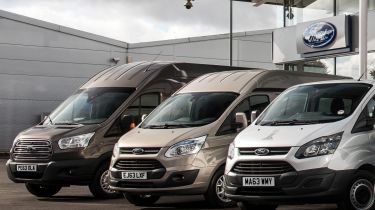 The number of vans on British roads have hit an all time high of four million, according to latest figures from the Society of Motor Manufacturers and Traders (SMMT).
The current total of 4,007,331 vans is 4.3 per cent up on last year with first quarter registrations in 2016 growing by 1.2 per cent. Registrations in 2015 were 370,000.
With so many vans on the roads, around 45 billion miles are covered across the UK each year and if parked end-to-end the vehicles would stretch 28 times the length of the A1 with loads of a volume totaling more than 10,000 Olympic swimming pools on board. Almost 3,000 tonnes of goods are moved by road every minute – three times more than by water and rail combined.
The uptake of vans is good for the environment, too, with all vans registered from September this year having to meet Euro 6 emissions standards. Mike Hawes, SMMT chief executive, said: "Commercial vehicles have never been more important to the British economy, transporting vital goods and services using the latest low emission technology."
DAB in vans on the rise
Figures also show the number of new vans sold in the UK fitted with DAB digital radio as standard in the past 12 months has increased by 130 per cent compared with the previous year.
Industry analysts CAP and the SMMT revealed in the past 12 months, just under 120,000 new vans were registered with DAB digital radio as standard, compared with 52,000 over the previous 12 months.
In the first quarter of 2016, 36.5 per cent of new vans were fitted with digital radio as standard, compared with 22 per cent in the first quarter of 2015.
Get all the latest van news and reviews with our van channel...