Opel Adam designed by Valentino Rossi
A one-off Opel Adam designed by Valentino Rossi will be auctioned off for chairty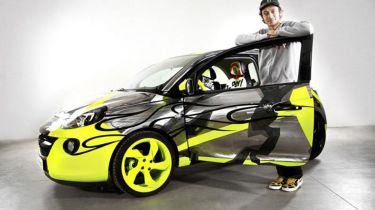 Moto GP star Valentino Rossi has designed a special one-off Opel Adam, with the funds raised from its sale at auction being donated to charity. The supermini features exclusive styling and decals visioned by Rossi along with the help of designer Aldo Drudi.
Opel brand ambassador Valentino Rossi added his own personal touch with his racing number 46 pasted across the side of the car, as well as his signature being written across the bonnet. Inside, the seats have been finished in Dainese leather, mimicking a motorcycle suit.
All the money raised from the cars auction on eBay will be donated to the Meyer Children's Hospital Foundation – Meyer O.N.L.U.S. in Florence. The current bid stands at just over €14,000, with seven days of bidding remaining. The Meyer O.N.L.U.S children's hospital plans to use the money raised by the auction to build a games room for the children.
Opel has also announced it is to team up with Canadian singer Bryan Adams to create a special edition dubbed 'ADAM by Bryan Adams'. Only ten models will be produced all featuring a special dark camouflage paint job. All the proceeds will be donated to the Bryan Adams Foundation, which aims to help improve people's financial situation around the world.