Vauxhall Astra: 18 speed records and counting
Vauxhall Astra breaks 18 world and UK speed records following attempt at the end of last year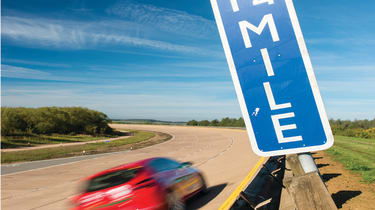 Late last year Auto Express took part in a record-breaking attempt at the 24-hour speed endurance record in a Vauxhall Astra, and now the FIA and MSA have confirmed 18 world and UK speed records were broken in the process.
Senior road tester Owen Mildenhall was part of the team that piloted an Astra 2.0 CDTi 165PS around the loop at the Millbrook Proving Ground for 24 hours and 3002.44 miles at an average speed of 125.101mph.
The run appeared successful but before the records were officially broken the car was sealed, the engine was taken apart and fuel samples were taken before the FIA and MSA could ratify them officially.
The 18 records broken were made up of 12 UK-based titles in the FIA's 1600cc- 2000cc diesel category, while the remaining six were in the MSA's 1500cc-2000cc category. Among them were the World 6 and 12-hour speed endurance records but the UK 24-hour record was the aim and the Astra smashed it by 25mph.
Over the course of the attempt the Astra lapped Millbrook's banked circuit 1500 times, with the quickest lap completed in 55.45 seconds at an average speed of 131.852mph.
Before this record-breaking run the FIA's 24-hour 1,600-2,000cc forced-induction diesel endurance speed record was unclaimed, as nobody has yet managed to complete an attempt, while the MSA's 1,500-2,000cc mark has stood since the late nineties.
"We're over the moon with today's news," said Simon Hucknall, Vauxhall's PR Manager. "This was an important test for the Astra, and it proved that a car with the qualities that most motorists are after – exceptional reliability, a good performance/economy blend and long-distance comfort – can be found at their nearest Vauxhall showroom."