Parents funding first cars
Young drivers rely more on family finance than 50 years ago, and more are buying new, too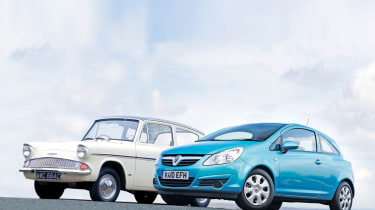 More first-time car buyers are relying on mum and dad for financial help than ever.
According to a survey by Aviva Insurance, a third of youngsters in the 2010s get other people to pay for their car. Back in the sixties, it was 20 per cent.
Also, one in five now has their insurance paid for, compared to one in 20 in the sixties. The survey named the most popular first cars over the past 50 years, too, and it's no surprise more buyers need help.
Topping the sixties list was the Ford Anglia, which cost £610 – the equivalent of £9,822 today. The Vauxhall Corsa, this decade's most popular first car so far, starts at £9,495. While the Anglia looks like the pricier option, only eight per cent of sixties first-time buyers would've bought new, compared to 26 per cent now, the poll claims.
A spokeswoman for the Retail Motor Industry Federation blamed a change in attitude. "It's the bank of mum and dad," she said. "But expectations are different: people want something new with air-con and a decent stereo, not a banger."
Our tables show how the top-selling first cars of the sixties and today compare on kit – and price.
| | | |
| --- | --- | --- |
| | Top car in 1960s | Top car in 2010s |
| | Ford Anglia (1960s) | Vauxhall Corsa (2010s) |
| Price | £610 | £11,625 (1.2 S 3dr) |
| Engine | 1.0-litre 4cyl petrol | 1.2-litre 4cyl petrol |
| Power | 39bhp | 84bhp |
| 0-60mph | 29.4 secs | 13.6 secs |
| Top speed | 77mph | 107mph |
| Equipment | Radio, eight exterior colours, screenwash, heater (£14.17 option) | Electric windows, central locking, electric mirrors, daytime running lights, CD player, driver's airbags, power steering |