World Cup 2014: epic road trip
As England's football players were limbering up in Brazil, we saw if another home favourite could score on this road trip
Few people are immune to World Cup fever. Every four years, even the most sceptical and cynical football fans can't help but feel a little pang of excitement about the most important football tournament on Earth. And there's no better place to sample the 2014 event than from the host city itself, Rio. So we packed up our kit and headed on our way to catch some of the action.
Our journey kicks off at Wembley, where our chariot awaits in the shadow of the giant stadium's famous steel arch. Vauxhall, sponsor of home nations football, has provided us with an Insignia SRi 2.0 CDTi ecoFLEX. No, it doesn't possess the pace of Raheem Sterling or the creative streak of Adam Lallana, but it's a reliable workhorse, suited to the task ahead. Like a four-wheeled James Milner.
It's no coincidence that the Insignia – Britain's fourth-choice Vauxhall after the Corsa, Astra and Mokka – has been selected for our ride to Rio. As we enter destination 'Rio' into the vastly improved new eight-inch sat-nav display, a 1,270-mile trip beckons. The Insignia smirks in the face of such a trek, like Cristiano Ronaldo surveying his reflection in a mirror. It has the biggest fuel tank in its class – at 70 litres – and with its 76.3mpg claimed fuel economy, that gives us a potential 1,175-mile range at full match fitness.
This is enough to get us well on our way to the biggest football party in the world. Mind you, the on-board computer is predicting a pessimistic-sounding 642 miles before we even begin our journey. Here we go, here we go, here we go…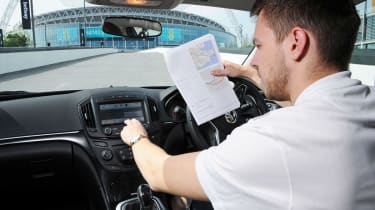 Road to Rio
The fuel economy is immediately dealt a damaging points deduction by the traffic as we negotiate our way out of West London. It's a typically England-like start to a campaign – a so-called kind draw in the group stage that ends up going down to the wire. By the time the Insignia is in its comfort zone – a 70mph cruise down the M20 – it's touch and go if we'll actually make the cut for our 12.20pm EuroTunnel crossing. So much for loyal home support.
Just as 32-year-old ex-beetroot bottler Rickie Lambert probably didn't expect to find himself on the plane to Rio, staff photographer Otis Clay and I have defied the odds and nosed on to the Shuttle in the dying seconds of normal time.
France welcomes us with grey haze, and a hint of drizzle, but it's nothing compared to the sauna-like conditions England's Lions faced in their opening game in Manaus. With the Vauxhall aimed at loping French autoroutes, its fuel needle having only just moved from the stop, it's time to put some pressure on those comfort and economy credentials.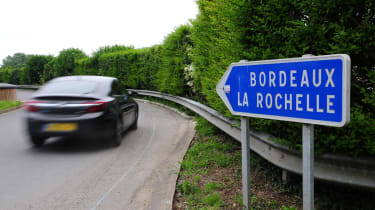 The Insignia isn't representing the hopes of a nation, so much as the everyday car industry. There is no plug-in hybrid trickery or active aerodynamics. Its 2.0-litre turbodiesel and manual box are no more revolutionary than the repmobiles that pounded our roads when Stuart 'Psycho' Pearce was bellowing his way into England fan folklore in the nineties.
Partnership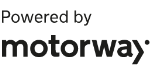 Need to sell your car?
Find your best offer from over 5,000+ dealers. It's that easy.
Wearing chunky Goodyear Excellence low-rolling-resistance tyres, and delivering 139bhp and 350Nm of torque, it's set up for wallet-friendliness. Literally, the gearing is so long, the motor grumbles like a disgruntled manager's press conference as we crawl away from the French autoroute toll booths.
The pay-off comes at a 110kph (68mph) cruise, where the four-cylinder turbodiesel is churning at a lazy 1,650rpm. Real-time fuel economy (naturally relayed in metric measurements now we're on the Continent) is 4.9l/100km – equating to 59mpg. That's some way off the claimed figures, but in the era of football's 'Golden Generation', aren't we used to falling short of the hype by now?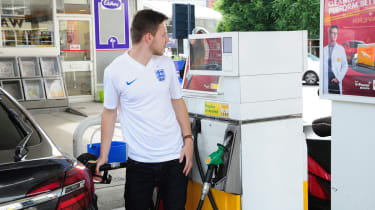 By the time we reach our overnight stopover near Niort, 180km north of Bordeaux, the strong headwind and slightly over-excited metatarsals have taken their toll. Only a quarter of a tank left. We've done 528 miles at an average of 61mph, and scored 54.8mpg.
Next morning, as we eye the Spanish border, we quench the Insignia's tank with nearly 90 Euros of diesel after a total of 765 miles. The heat continues to rise as we penetrate Spain's final third, and head for a Portuguese-speaking nation. Even with the cruising speed upped to 125kph (78mph) and the air-con puffing like Emile Heskey in sprint training, the car refuses to fall under 55.2mpg.
The sun starts to dip below the Porto skyline just as the fuel needle droops below halfway. We're minutes away from full time on this trip, but there's no sign of Copacabana beach. There's an uneasy tension as I recheck the Insignia's sat-nav, which drains into a despair familiar to anyone wearing an England strip. Oops. We're not heading for Rio de Janeiro, Brazil. This is Rio…Tinto. As in Rio Tinto, Gondomar, a suburb of Porto.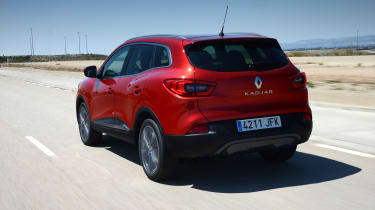 There's a glimmer of hope we might see some quality football when I spot signs for Atletico Rio Tinto, but nothing's happening at the 5,000-seat stadium, host to a mid-table side. And despite the best efforts of the Insignia, which covered 1,307 miles (including traffic detours) in two days at 54.2mpg, our World Cup dream is over. Fingers crossed Roy's boys last a little longer in the other Rio.