New 2022 Volkswagen Amarok pick-up revealed in sketch
New teaser image of the next Volkswagen Amarok pick-up truck shows off rugged look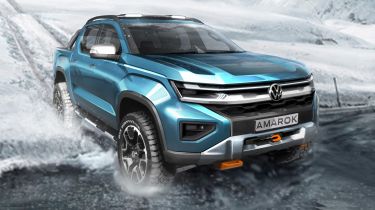 Volkswagen Commercial Vehicles has released a new teaser sketch of the forthcoming next-generation Amarok pick-up, which will be launched in 2022. The new Volkswagen Amarok will share its platform with the next-generation Ford Ranger, as one of the first vehicles to emerge as part of a technical collaboration between the two brands.
The teaser image shows that the next Amarok will get an extensive makeover, with a new, more aggressive face that features a full-width grille not too dissimilar to the brand's Touareg SUV. The Amarok's profile shows it takes inspiration from the Atlas SUV sold in China, with boxy wheel arches, and the use of straight-line styling cues.
Volkswagen Commercial Vehicles' Chairman of the Management Board, Carsten Intra, said: "It's not just going to be a fantastic pick-up; it's going to be a genuine Volkswagen– with clear DNA in both technology and design."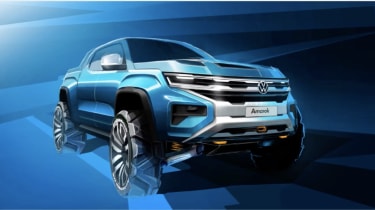 Volkswagen and Ford confirmed plans to collaborate on the engineering of commercial vehicles and pick-up trucks last summer, as part of a large-sweeping tie-up between the automotive giants across a number of aspects of their businesses. 
"Volkswagen Commercial Vehicles has taken a major strategic step by establishing its cooperation with Ford. The successor to the Amarok will be one of the first fruits of this collaboration," said Volkswagen Group CEO Herbert Diess last year.
At the time, the firm revealed that its first jointly developed pick-up trucks would be released in 2022, with a new Ford Ranger based on the same platform to follow the next Amarok into production. 
The two brands have also announced a multi-billion pound investment in autonomous drive technology start-up company Argo AI, while from 2023, Ford will produce electric vehicles on the Volkswagen Group's MEB platform.
Click here for our in-depth review of the current Volkswagen Amarok pick-up...