Volkswagen to roll out faster charging update for ID.3 and ID.4
Volkswagen's electric hatch and SUV will have their maximum charge rate increased in "near future" via over-the-air update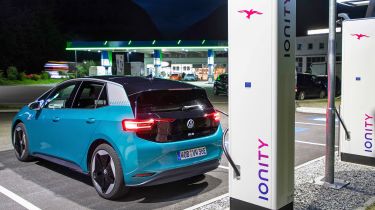 Volkswagen will increase the maximum charging rate of its ID.3 and ID.4 electric cars with a new software update, which will also enhance the charging process for owners or new buyers.
The announcement is part of a range of new charging solutions detailed today by the brand, which includes bi-directional charging and a new function added to 2022 ID. models that replaces the current public charging authentication process.
From next year, ID.3 and ID.4 models will leave the factory with a 'version 3.0' software upgrade. This will increase the maximum charging rate from 125kW to 135kW for models with the 77kWh battery, cutting the 5-80% battery charge on a public charger by up to nine minutes.
The new software, which will also be rolled out to existing ID.3 and ID.4 owners via an over-the-air update, also introduces a new Battery Care Mode that allows users to stop the battery charging at 80%. This should help to extend the battery's lifespan.
Furthermore, VW has restructured the charging menu shown on the cars' infotainment screens in "a more informative and clearer way". The Online Route Calculation function has been updated, too, giving more dynamic route evaluation that better plans charging stops along the route.
VW has also followed the lead of brands such as Hyundai and Kia by announcing the introduction of bi-directional charging on its models. This allows EVs to feed electricity back into the grid or to power your home should the need arise – providing, of course, that your house has the requisite bi-directional wallbox fitted, too. The firm claims all ID. Models fitted with a 77kWh battery will be capable of doing this "in future", although no timeline has been given.
Another new feature introduced in 2022 will be a new authentication process for public charging. VW claims "encrypted and secure communication... will be started between the car and charging station as soon as the customer plugs in the charging cable". Called Plug & Charge, the process is said to take a few seconds, and avoids the need to scan membership cards or debit cards to begin charging. It will be possible on Ionity, Aral, BP and EON networks throughout Europe next year, with discussions with other networks "ongoing".
Elke Temme, Head of Charging and Energy at VW Group Components, said: "The goal is to ensure that an electric vehicle is capable of being a customer's primary car, without compromises.
"That is why we are building a complete charging ecosystem, with residential charging solutions and a rapid expansion of the fast-charging infrastructure required for mobile charging, as well as competent advice, comprehensive charging tariffs and the right fleet solutions for business customers."
Furthermore, the company will provide support for expansion of renewable energy sources for charging across Europe. 40 million Euros will be invested over the next three years to build 20 new wind or solar farms, increasing the share of green electricity its models will take in when charging.
Check out the best electric cars to buy here...