Volkswagen Phaeton (2003-2010) review
VW has ambitious plans, and no model highlights this more than the luxury Phaeton.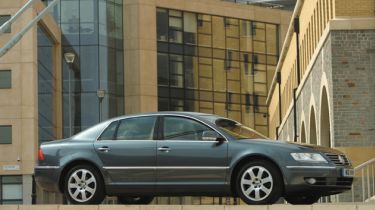 VW has ambitious plans, and no model highlights this more than the luxury Phaeton. Designed to take on and beat rivals like the Mercedes Benz S-Class, BMW 7 Series and Audi's A8, the Phaeton has to be good to convince these notoriously fussy buyers out of their established luxury cars. Featuring all-wheel-drive, on all but the smallest engined models, and a vast range of engines given the sales projections, it's an impressive technological flagship. Pictures don't do the Phaeton justice - it really is a fantastic looking car, no where near as ostentatious as its intended rivals. Inside is pure luxury, the interior highlighting VW's skill in cabin architecture, with virtually no hint of road or wind noise - even at autobahn cruising speeds. The ride too is superb, flattening even the most pitted of surfaces, its adjustable air suspension allowing you to choose your preferred settings for comfort and handling.
The automatic transmission slips seamlessly between its ratios, the driver offered control of the transmission via two steering column-mounted paddles. It's more of a cruiser than a sports saloon though, more at ease wafting occupants in speed and comfort down the motorway than bring slotted down a b-road. The engine choices consist of anything from a V6 through to a W12 engine - it giving the Phaeton near 200mph ability. Ownership is should be an experience, VW a special assembly line and Phaeton customer area where they can watch their cars being built, one year's access to a concierge company included in the UK list price too. Never likely to make any profit for Volkswagen, and certain to suffer from poor residuals, if the 'halo effect' it casts on the rest of the VW helps shift more Golfs, it'll have done its job.
Engines, performance and drive
0
MPG, CO2 and Running Costs
0
Interior, design and technology
0
Practicality, comfort and boot space
0