Volkswagen Polo BlueGT vs SEAT Ibiza FR
The VW Polo BlueGT mixes hot hatch fun with diesel efficiency. We see if it has the edge over the SEAT Ibiza FR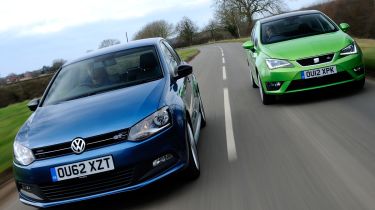 Petrol versus diesel is a battle that has been raging for years, but now a bold newcomer is out to settle the debate once and for all.
The VW Polo BlueGT uses clever cylinder deactivation technology in a bid to combine petrol hot hatch pace with traditional diesel fuel economy. On paper, it certainly has all the right credentials, as its turbocharged 1.4-litre engine claims 138bhp and emits only 107g/km of CO2.
To see if it really can deliver efficiency and excitement in equal measure, we've pitted it against a diesel hot hatch with a virtually identical power output and even more style.
The SEAT Ibiza FR with the 2.0-litre TDI engine is every bit as fast as its rival, plus it should be just as easy on fuel. Better still, thanks to its tried-and-tested engine technology, it also undercuts the Polo on price.
So which of our energy-saving pocket rockets does a better job of mixing frugality and fun? To find out, we pitch the two head-to-head on the road, the track and at the pumps.
Verdict
Warm hatch buyers now have more choice than ever, and both of these outsiders offer an interesting alternative to the mainstream.
As a showcase for technology that could soon be commonplace on all cars, the Polo BlueGT is convincing. It builds on the strengths of the standard car and adds a level of performance and refinement that makes it a genuine long-distance cruiser.
What it lacks in exterior style and handling precision, the VW compensates for with superb comfort and interior quality. It may have trailed the Ibiza in our efficiency tests, but the low emissions and flexible performance justify the extra outlay.
As for the SEAT, it's definitely the more stylish choice and it comes very close to beating the Polo. Yet the lower list price is accompanied by less standard equipment and a drab and dated cabin. At lower speeds around town, the agricultural engine note and uncompromising ride make it wearing to drive. And, while it feels quick, the narrow torque band means it's not as eager or responsive as the Polo.
If fuel economy really is a top priority, the SEAT is the one to go for, but otherwise the VW has it beaten in almost every area – although there's no escaping the fact that £18,020 is a lot to pay for a supermini, no matter how innovative it is.