Volvo unveils life-saving wearable cycling tech
Volvo has announced new helmet-mounted safety tech that aims to significantly reduce collisions with cyclists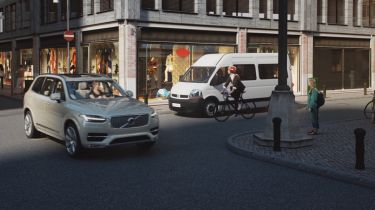 Volvo is looking to make the lives of cyclists safer with the introduction of wearable technology that communicates to cars. Set to be demonstrated at the International Consumer Electronics Show (CES) in January 2015, the tech aims to significantly reduce collisions between cars and bikes.
Developed by Volvo in conjunction with communications giant Ericsson and protective sports gear manufacturer POC, the technology is integrated into both the helmet of the cyclist and the car's safety warning systems. Demonstrated in these images with the firm's forthcoming XC90 SUV, it establishes a two-way connection between the car and cyclist.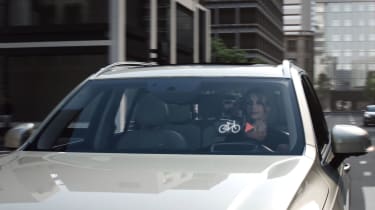 Using a smartphone app, the cyclist and car's exact positions are shared with the Volvo cloud database. If an imminent collision is predicted at any angle, the driver of the car will be alerted to the bike's presence via a head-up display alert. The rider will also get a visible warning through a helmet-mounted alert light.
The World Health Organisation (WHO) reported that in some countries cyclists and pedestrians constitute over 75% of road deaths. Volvo's Vice President Klas Bendrick said that the firm is "getting ever closer to eliminating the remaining blind spots between cars and cyclists".  
Such technology already builds on the active safety systems that debut in the new XC90, in particular the City Safety function that can detect, warn and auto-brake the car if sensors detect an oncoming collision with a cyclist. The Swedish firm also says it is on track with plans to have nobody killed or seriously injured in its cars by 2020.
Do you think this technology will improve cycling safety around the world? Let us know in the comments below.