The changing face of an iconic Volkswagen van
From the classically-styled models of the 1950s to today's ABT eTransporter 6.1, we explore the history of Volkswagen vans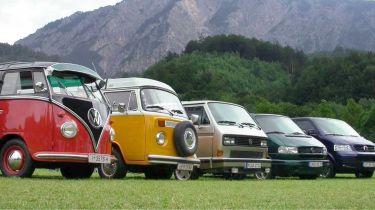 Advertisement feature from

The Volkswagen ABT eTransporter 6.1 arrives this year, signalling the next evolutionary step for the world's most iconic van. Produced in collaboration with ABT e-Line, whose Formula E work makes it the ideal partner to supply an electric drivetrain, this latest incarnation of the Transporter arrives as the van celebrates its 70th anniversary.
Over the past seven decades, 13 million Volkswagen vans have been sold, and along the way they've been embraced by the counterculture movement, and become a robust and reliable ally for businesses across the globe. Known by several names – including Bulli, Kombi or Microbus – the vehicles' 'T' naming convention was only applied retroactively when the T4 model was introduced in 1990. Today, the Transporter holds the record for the world's longest production run for a commercial vehicle.
The early years
Its story begins in 1949 as a hand-built prototype, produced in just three months and approved for production the following year. It was officially known as the Type 2, which underlines its importance to Volkswagen - the Type 1 was the world's most famous car, the Beetle.
Rolling off the production line in Wolfsburg in March 1950, the first Transporter took its engine and gearbox from the Beetle and had a payload capacity of 750kg. The T1, as it eventually became known, was offered in panel, passenger (Kombi) and eight-seater bus versions, while variants quickly followed like 1951's Samba, complete with all-round windows and folding sunroof. Production shifted from Wolfsburg to Hannover in 1956, and its popularity began to spread across the globe – by the late '60s there were production lines in Brazil, Australia and Mexico.
The T2 debuted in 1967, boasting a new front end, air intake grille and an increased maximum payload of 900kg. This iteration also had a sliding door to improve access and came in a pop-up roof camper version that made it a hit with those bitten by the travel bug. By now the Transporter was becoming synonymous with counterculture as era-defining bands like the Grateful Dead drove them for country-wide tours. At 1969's Woodstock music festival, Volkswagens covered in painted peace signs and flowers were a staple. Suddenly, the Transporter became more than a van, it was a cultural symbol.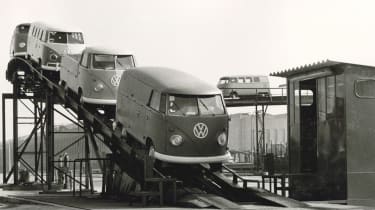 Alice Axtell, product manager at Volkswagen Commercial Vehicles, believes the Transporter's early success was partly down to its adaptability. "Going back to the '70s and the hippie days and Woodstock, I think [the van] was so massively versatile that there were all sorts of different ways people could customise them," she says. "It's very hard to say exactly what gives something cult status, and  makes it an icon. It's not something that you can make happen. It happens organically over a period of time."
Transporter in the modern era
The third-generation Transporter underwent a significant facelift in time for its arrival in 1979. A wider body offered more room for passengers and cargo, while a flat-four diesel engine added to the spaciousness. In 1985 innovations like catalytic converters, turbochargers and all-wheel drive pushed the vehicle forward, while the more comfort-orientated MPV Caravelle also proved a popular option.
Partnership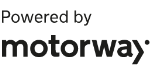 Need to sell your car?
Find your best offer from over 5,000+ dealers. It's that easy.
The T4 arrived in 1990 and production continued on this model for 13 years. This iteration brought a front engine and front-wheel drive for the first time. Moreover, the new design, longer front end, varied engine choices and a pick of two wheelbases helped expand the van's appeal. 
In 2003, the year that the T4 ended its run, its successor the T5 launched. Its versatility made it one of the go-to choices in an increasingly competitive van market, with over 100 variants available, including the factory-built California campervan. In total, 1.65 million T5s were produced during the van's 12-year run.
The T6 and beyond
Launched in 2015, the T6 brought new engines, a front-end redesign, intelligent driver assistance and a new infotainment system. Fast-forward four years and the T6.1 arrived with significant upgrades: a fresh dashboard design, improved tech and connectivity, new power steering system and more efficient 2.0-litre turbodiesel engines. Not only that, but with every iteration the Transporter has also maintained high residual values, showing its popularity through the generations. Awards for the new van alongside the used versions are testament to its longevity and appeal to a range of buyers.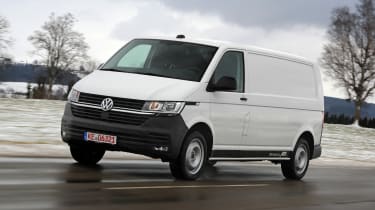 Today, as the shift to electrification gathers momentum, Volkswagen is setting out plans for the future of its commercial vehicles. The Volkswagen ABT eTransporter 6.1 takes the T6.1 design and fits it with an electric drivetrain courtesy of Volkswagen Commercial Vehicles' partnership with ABT e-Line. "We looked at a number of different suppliers and ABT were identified to be the best ones because we have worked with them in the past within the Volkswagen Group," says Axtell. "It's about using the expertise and partnership approach to get a product to market."
The ABT eTransporter's electric motor brings a maximum power output of 109bhp and 200Nm of torque, while the regenerative braking is designed to recover energy lost when braking and decelerating. Its CCS (Combing Charging System) socket supports both DC and AC charging, with the former allowing 80% capacity charge in 45 minutes. On a full charge it can travel up to 82 miles – ideal for inner city delivery, according to research.
What does the future hold beyond 2020? While Volkswagen is working away on T7 prototypes, the Hannover factory is being readied for the ID. Buzz Cargo – an all-electric, rebooted version of the Bulli design from the Transporter of the 1950s. It's unashamedly retro, but kitted out with cutting-edge electric tech and an estimated range of over 250 miles. It'll also be the first Volkswagen to truly integrate the Internet of Things, with sensors collecting data to manage everything from the lighting system to stock-tracking individual items in the cargo area. Axtell says to expect the ID. Buzz Cargo in 2022, with the van using the Volkswagen MEB electric vehicle platform.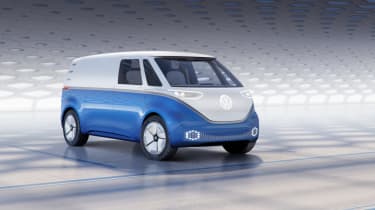 The Transporter has been around for 70 years, embracing new technology and evolving its design, but always keeping an eye on the past to preserve the unique identity of the T series.
"I think it's just always done what people have needed it to do," says Axtell. "It's one of the most versatile vans around, and it's been a really successful story of evolution over revolution. When we've moved from one generation to the next we've looked at what our customers needed this van to do and made those changes so that it's modernised in line with those requirements, rather than just invent something we thought was different for different's sake."
As businesses adapt to ever-changing consumer needs and the demand for last mile delivery grows, Volkswagen's impressive legacy and longevity in the field mean its vans continue to be worthy of consideration for any forward-thinking, modern business.
Discover more about the Volkswagen ABT eTransporter 6.1 and how it can work with your business