How to choose the best car dog ramp 2018
Dog ramps help your dog get in and out of your car easily but how do you find the best dog ramp for your needs and budget?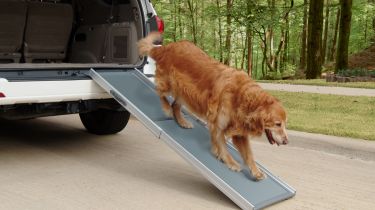 Getting in and out of a car is simplicity itself for most humans but for a variety of reasons, it can be a real chore for a dog. Research has suggested that dog owners are potentially putting the health of their pets at risk by requiring them to jump down from the high boot lips in their SUVs but depending on the dog, negotiating an exit from any car can be a problem. That's where a dog ramp comes in.
Perhaps you have an older dog, or one with health issues, that's less agile than he or she used to be. Or maybe your dog is simply the owner of four very short little limbs and struggles with making it up to the boot or backseat as a result. Whatever the reason, there are plenty of dog ramps on the market to choose from from the cheap and cheerful to the substantial and rather more expensive. Here's our guide to what you should think about before buying a car ramp for your dog, and a selection of the best dog ramps available.
How big should the ramp be?
The dog ramp's size will of course be dictated largely by the dimensions of your dog but you also need to think about the kind of car or cars you'll be using the dog ramp with. A shorter rap will be easier to fit in to your car boot but it'll provide a steeper walkway for your faithful hound - particularly if you drive a high-riding SUV. Go for a longer ramp and there'll be less of an incline but it'll take up more room in the car.
Think about the ramp's width too, typically a bigger dog will need a wider walkway to get in and out of the car comfortably - there's no use saving space with a thin ramp if the dog refuses to walk up it.
What should the ramp be made of?
Most dog car ramps are made either of plastic or aluminium. Both are lightweight materials employed with easy folding, unfolding and carrying in mind. So you're highly unlikely to break a sweat moving any of the dog ramps we feature below around.
Obviously, though, besides weight, there's also durability to consider. Is a budget-priced plastic ramp likely to last as long as a higher-end, heavy-duty one? Probably not - but that's why you should think about how often you'll be using it. Does your dog take constant trips with you in the car, or will the ramp only be used for occasional trips to the vet? Also, how heavy is your dog? Check the maximum load capacity of the dog ramp and make sure your pet is well within that boundary.
How does it unfold?
Here's where your needs come before that of your dog. Most ramps on the market open with a simple hinged fold, while others extend telescopically. The latter type are generally more expensive - but if you're someone who's less mobile, who might struggle with constant folding and unfolding, you might want to invest in a telescopic ramp that will cause you less stress. Many of the ramps also have their own container or case so they can be stored more neatly in the boot of the car but we'd always recommend taking measures to tie the ramp down in the boot with a luggage net or similar to stop it sliding around when you're driving.
Read our list below for some of the best dog car ramps available right now...
Easipet Pet Ramp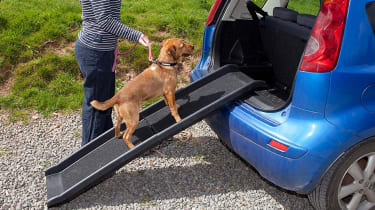 Price: £29.99
Buy the Easipet Pet Ramp from Amazon here
Dimensions: 156cm x 40cm x 10cm (unfolded) | 78cm x 40cm x 20cmWeight: 6kg
Easipet's ramp is priced at the cheaper end of the dog ramp spectrum. It's made from a moulded black plastic that folds in half and has a curved lip that hooks neatly on to the lip of your car's boot or seat. It also has a textured surface so your dog's paws have extra grip. Without a handle, it may be a little awkward to carry back and forth.
Pet Gear Travel Lite Bi-Fold Dog Ramp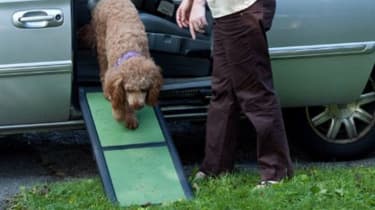 Price: £52.22
Buy the Pet Gear Travel Lite Bi-Fold Dog Ramp from Amazon here
Dimensions: 106.7 x 40.6 x 10.2 cm (unfolded) | 53.4 x 40.6 x 20.2cm (folded)Weight: 4.08kg
At just over one metre in length, this is suited to diminutive dogs and cars with a standard ride height. Its size also makes it highly compact when folded. Pet Gear's ramp has a rather fetching green surface that wouldn't look out of place at the arena at Crufts. The rubber grips along the bottom also help anchor it to the ground.
Petface Folding Dog Ramp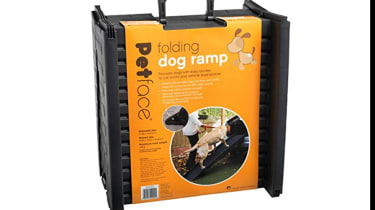 Price: £49.98
Buy the Petface Folding Dog Ramp from Amazon here
Dimensions: 150cm x 40cm x 1cm (unfolded) | 50cm x 40cm x 26cm (folded)Weight: 3.8kg
Convenience is central to Petface's ramp: its triple-fold design turns it into a neat box with a carry handle. This means it could be a good choice for dog owners who use more than one car to drive with their dogs, and need to constantly carry it back and forth between vehicles. The triple-fold design also makes it particular compact when folded, so if you're short of space in the boot of your car, this might be the ramp for you.
Solvit PetSafe Telescopic Pet Ramp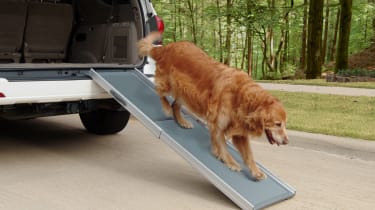 Price: £150.99
Buy the Solvit PetSafe Telescopic Pet Ramp from Amazon here
Dimensions: 182.88cm x 43.18cm x 10.47cm (unfolded) | 102.9cm x 44.4cm x 12.1cm (folded)Weight: 6.69kg
Here's one for owners of big dogs. Solvit's extra-large ramp extends to nearly two metres, creating a shallow incline for the dog to negotiate. Unlike the other ramps listed here, it does so via a handy telescopic design. This means it could be good for dog owners who might struggle with lots of folding and unfolding. It's priced more highly than some but the aluminium construction counts in its favour. There's also a cheaper 1m version, if you're looking to make a saving.
Rage Powersports DR-07 Lightweight Portable Folding Aluminum Pet Ramp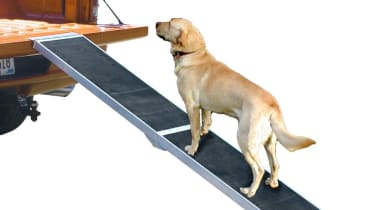 Price: £256.46
Buy the Rage Powersports Pet Ramp from Amazon here
Dimensions: 182.9cm x 38.1cm x 5.1cm (unfolded) | 104.2cm x 38.1cm x 10.2 cm (folded)Weight: 5.44kg
The most expensive ramp on the list is also designed to be the most heavy-duty.The Rage Powersports ramp looks ideal for dog owners who might frequently find themselves offroad and out in the elements. It's made of rust-proof aluminium, so can survive being left in the back of a pick-up or trailer, and has heavy-duty hinges that will survive constant use. It also has a maximum load capacity of 113kg, so will readily take the strain of bigger dogs. When folded, it can be carried with a handle too.
Read our in-depth product tests here...