Wheel care
Keep your wheels and tyres gleaming with our pick of the best cleaners and polishes.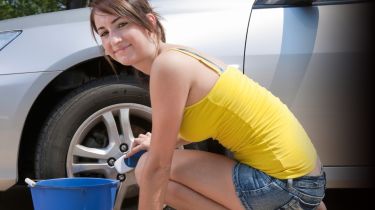 Time to focus on your rims, which get plastered in road grime and brake dust. We rate the products that bring them back to their best.
What's more, don't forget our hints and tips to keep your car's wheel's and tyres in top condition.
Q. There are cracks in the sidewall and tread of my tyre. Should I be worried?
A. It depends on how big they are. Hairline slits are not a problem, but as rubber gets older it hardens and affects performance. Check the sidewall for the last four figures of the DOT code for the tyre's age. The first two figures are the production week and the last two the year – eg 1509 is week 15 in 2009. Replace if they are 10 years old. If the cracks are deep, renew regardless of age.
Q. Sections of my alloys have gone opaque. Do you know why?
A. This is probably caused by wheel cleaner, where the lacquer has been scuffed or chipped. Strong products get under the clear layer, eat through the paint and corrode the rim. Get the wheel rubbed down and repainted by a mobile repair service, like Wicked Wheels. If your alloys have broken lacquer but have yet to corrode, you can prevent damage by switching to a universal cleaner – such as Meguiar's Hot Rims (£8.49) – that can be used on all surfaces.
Q. How do I know which tyres will suit a set of second-hand alloys?
A. Before you part with any money, check the rim will fit your hub and not foul the brakes. A dealer specialising in wheel and tyre packages will be able to tell you the combinations suitable for your car. You should also consider the circumference of your new tyres. If it is more than a couple of per cent longer or shorter than the original, you will have to recalibrate the speedometer. And don't forget to let your insurer know if you are altering the car from its original specification.
Q. My tyres keep going down, but there's no puncture. What's up?
A. Over several months, tyres will always lose a little pressure. If your tyres are going down faster than that, make sure you always check them in the same state – ie hot or cold. If there is still a problem, get the valve checked or replaced. Look at the edge of the rim where the bead of the tyre rests, as corrosion here can allow air to get past. And if your alloy wheels are old, they may have become porous where the lacquer has been broken. A refurb should put them right.
Q. I've heard that there are new laws for tyres – will I have to change mine?
A. if your rubber is in good condition with the minimum 1.6mm tread, no. New EU rules have made it illegal to sell tyres up to 185mm wide without an 'S' mark to prove they meet noise standards. This will apply to rubber up to 215mm wide from October, and all car tyres from October 2011.