Person of the Year
Person of the Year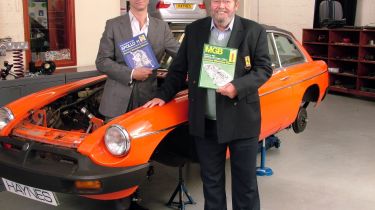 Just as the father of car workshop manuals broke new ground in early Sixties with his first volume, John Haynes OBE, has done it again almost 50 years later by taking our first Product Awards Person of the Year crown.
Our honour also marks the half century of the publishing empire that spans Europe and America spawned by that first manual for an Austin Healey Sprite and also the year he steps aside as chairman to make way for son J.
The DIY mechanic's workshop bible came at the expense of the RAF as Pilot Officer Haynes started publishing and writing books regularly while serving. His first, on building an Austin Seven special, was published while still at boarding school where the young John not only wrote the 48-page volume but also illustrated, stenciled and bound it too. It sold out within weeks.
Similar specialist books followed until he helped a friend restore a 'Frogeye' Sprite while stationed in Aden and he hit on the idea of recording every step in words and pictures as the car was dismantled and rebuilt.
'The same basic principles have been applied to every manual we've done since then," says John. "Each book represents a car we've taken apart and put together again. The process takes six to eight weeks."
The success of the Sprite manual published in 1965 led him to resign his commission two years later to start publishing full time. Looking back he now believes his lack of formal training as a mechanic helped him write the books as an 'inexperienced do-it-yourselfer' – the people they were aimed at.
Since that first Sprite book around 150 million Haynes manuals have been sold worldwide and their popularity is still strong with more the a million being bought in the UK last year.
As the business grew the company spread and it is now based in Somerset and Los Angeles. The UK arm has around 300 car manuals in print plus almost half that number covering motorcycles and similar ranges in French and Swedish then there are also titles covering American models. In total the manuals have been translated in 15 languages.
The group now also covers many other topics including manuals for a Gibson Les Paul guitar and Avro Lancaster aeroplane plus it publishes a wide portfolio of titles covering motor sport, biographies, tuning, home decorating and health to names just a few.
At its heart though is motoring and its manuals with the Renault Clio and BMW 3 Series the latest to join the list. John believes there are still many jobs an amateur can do despite the ever-growing part that electronics play in modern cars which 'are very difficult for the do-it-yourselfer to fix'.
It has not been all bad as he welcomes the arrival of the self-starter, independent front suspension, disc brakes and power steering. Despite this the Austin Special is still his favourite car as it taught him about how things worked. Least favourite car? The Elva Courier from the 1960s which he 'scraped the most knuckles on'.
As he prepares to make way for his son John said: 'I was fortunate to hit on a business success early and then spend 50 very enjoyable years developing it into a global enterprise.'