Dodo Juice Supernatural Hybrid Wax
We review new car wax which claims to offer the best of both worlds.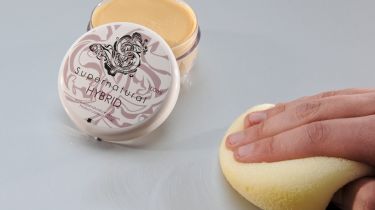 Price: £29.95 (100ml)
Hybrid cars are designed to help you cut your costs – and so are hybrid waxes. They blend natural and man-made ingredients to give a long-lasting shine and protection, and Dodo Juice has just launched its own version.
The SuperNatural Hybrid wax combines the carnauba of the regular SuperNatural product with synthetic chemicals. The half wax, half sealant claims to be more durable than rivals, and give more protection for less cost.
We used a pad to apply it to our test panel, and it took slightly more effort than with the natural product. It's very forgiving, though – you can easily put on too much, as it's barely noticeable on the pad, yet it still buffs off. Our test car was left with a subtle but impressive shine. It would have been even better with a second coat, but this is time-consuming.
Yet after six weeks of driving, the panel still beaded water well. Our only criticism is the price. Our current favourite wax – Turtle Wax ICE Synthetic Paste Polish – costs £19.99 for 227ml; you get only 100ml of SuperNatural Hybrid for £30. Use it sparingly, though, and the long protection should mean it offers similar value.
Verdict
Rating: ★★★★What is it?A protective wax which combines synthetic ingredients with natural carnauba.Problems?Expensive, requires a bit more effort to apply than a natural product.Why buy?Great protection, tub will last a long time, adds glossy shine, no white residue.