Autoglym Active Insect Remover
£7.25 - 500ml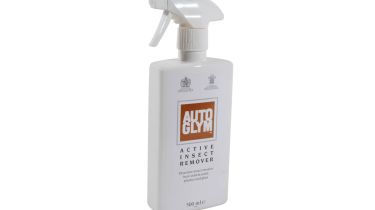 Like so many Autoglym products this works well but others do a similar job for less money.
The most expensive on test, it made good progress on our bugs if a little behind the best thanks to a wide spray that covered well and foamed slightly to reduce run off.
Spots were left after the first attempt but a second go dealt with almost all of them. Effective but expensive.
Gunk 01709 890099 www.granvilleoil.comTurtle Wax 01695 716610 www.turtlewaxeurope.comAutoglym 01462 677766 www.autoglym.com  Simoniz 0161 491 7391 www.simoniz.co.ukHalfords 0845 762 6625 www.halfords.comCarPlan 0161 764 5981 www.tetrosyl.com