Best parking apps
Six of the best iPhone parking apps tested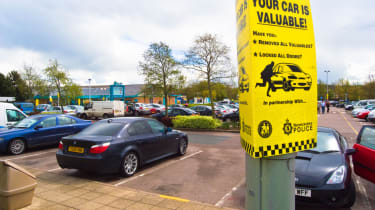 Parking Mate
Rating:
★★★★
Price:
Free
It won't help you to find the nearest car park, but Parking Mate is still handy. It's ideal when in a pay and display or on the meter, as you can use it as a reminder of how long you have left. You can save the location to help find your way back, even take a photo, and change the alert – so if you're a 10-minute walk away, it reminds you in time. But it loses out to Parking Aid (below) as you can't set your location having left the car.
Take Me To My Car
Rating:
★★
Price:
Free
Walking directions to your car are on offer here. Fire up the app when parked, then click 'park here' and rely on your iPhone's GPS to save your location. When you want to return, click 'get directions', and you will be provided with on-screen instructions. But these aren't turn-by-turn, and if you want features such as notes and the reminder (offered by rivals), you'll need the maker's iCarPark app, which costs 59p.
AA Parking
Rating:
★★★★★
Price:
£1.79
BEST BUY Powered by Parkopedia, this AA app is simple and accurate. It gets started fast – enter a location or leave the field blank, and it searches near you. Only once you've chosen a car park can you view it on a map, but you can get directions on Google Maps, and call up in advance. There are filters for street parking and car parks, plus covered bays and credit card payment. Less than £2, and it will soon pay for itself.
Find Parking
Rating:
★★
Price:
£1.19
Cheap and cheerful Find Parking app undercuts Nosey Parker and AA Parking. It simply uses your location to bring up nearby car parks – such as national chains – but not on-street spaces. You can display the results as a list or on a map, and then get directions via Google Maps. But while it's clearly detailed, you're better off spending a bit extra and getting AA Parking, which provides more info.
Parking Aid
Rating:
★★★★
Price:
Free
RECOMMENDED After working out where you are via GPS, Parking Aid then remembers the location. Drag and drop the pin to mark where you've left your car, then add info like what time you need to be back or what floor of a multi-storey you're on. While the app won't show you nearby spaces, you can take a picture. Google Maps provides directions and the menu is simple, making this our Recommended choice.
Nosey Parker
Rating:
★★★
Price:
£2.99
Expensive, but Nosey Parker is well worth the outlay. It includes 13,400 car parks, and claims 90 per cent coverage. You get a list or map of nearby car parks, and can view how many spaces each has in total, if not empty bays. Still, you can set filters, such as free, disabled spaces, or whether the car park accepts credit card payment, and view price per hour. Directions are launched in Google Maps, but the AA's app is simpler to use and cheaper.