Michelin Energy Saver+ tyre
New eco tyre from Michelin has lower rolling resistance than its predecessor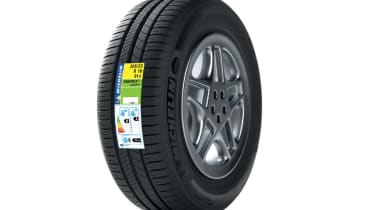 Michelin tyres have a reputation for offering strong economy, and the latest is set to build on this.
The Energy Saver+ costs the same as the old Energy Saver tyre, but Michelin says its more advanced compound reduces heat build-up, which in turn helps lower rolling resistance.
The company claims drivers switching from the Energy Saver to the Energy Saver+ could save up to 60 litres of fuel over its lifetime, and also help lower CO2 emissions by 3g/km.
The 16-inch version of the tyre has a 10 per cent larger footprint than the old Energy Saver, giving significantly better grip. As a result, in the new European tyre label tests, it scores an A for wet braking and a B for rolling resistance.
Michelin also claims the Energy Saver+ is durable, while prices start from around £50 for the smallest 14-inch tyre. There are an additional 57 sizes for wheels up to and including 16 inches in diameter, which should cover most family hatchbacks and saloons.