Optrix Extreme Sports Case/VideoPro app
New case and app from Optrix works with your iPhone to record journeys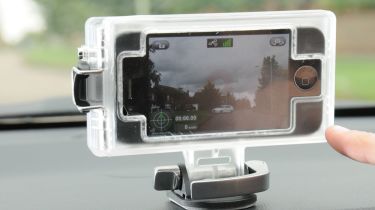 Motorists wanting to record a drive on a favourite road needn't splash out on a dedicated in-car camera. They can use their Apple iPhone to do it – because gadget maker Optrix has launched a new case and mount, as well as an app to track your speed.
The Extreme Sports Case fixes to a base using a quick-release lever. This makes it easy to switch between bases, but we found that the bases themselves aren't that sticky – we'd have preferred a suction cup mount to make it easy to attach in a car.
Putting your phone inside is a little tricky – you need to click it into a sled before you can slide it inside the case. At least this sled stops any vibration when filming. There's a secure catch to close the case as well.
We don't mind the fact that there's no portrait mode, as most drivers are likely to shoot their action footage in landscape.
You can still use the iPhone's touchscreen thanks to a thin membrane, and the lock button can be pressed, too, but there's no access to the volume buttons.
The app is pretty good, though. It logs your speed, location (using GPS) and G-force. We just don't think buyers of the £70 mount should still have to pay £6.99 to download the software to their phone – the app ought to be included in the price.
What's good?
Case still provides access to iPhone's touchscreen and lock button, app is great for logging data.
What's not so good?
We'd prefer a suction cup mount, sticky pad isn't that secure, no access to volume controls, pricey.