Falken Eurowinter tyres
Falken range features zig-zag pattern to improve traction on ice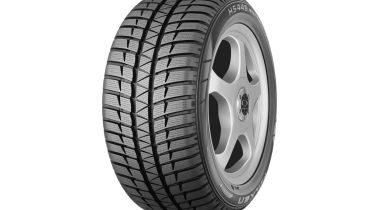 In the run-up to winter, Falken has launched its latest cold-weather tyre, the Eurowinter HS449, to replace the HS439.
The Japanese maker claims the new compound is more flexible at low temperatures. By adding more silica to the tyre, braking distances on wet surfaces have been reduced by 11 per cent over the outgoing model. There's also a higher concentration of polymer in the tread, which has increased stability by 13 per cent.
The tyre's footprint has been increased by 45 per cent to improve stopping distances on snow. On top of that, the tread has a zig-zag pattern to help traction on ice, and the sipes have been designed to ensure more even wear.
There are 57 different sizes available in the UK, for cars with wheels from 14 to 19 inches. Prices start at £89 for the smallest 175/65R14 tyre, and the range is available at KwikFit, which will supply and fit your new rubber.