Goodyear UltraGrip 8 Performance tyre
New tyre's tread is designed for strong performance and braking in snow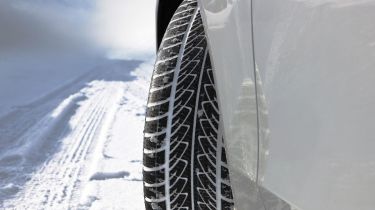 Goodyear has launched a new high-performance winter tyre that promises better braking on snow. The UltraGrip 8 Performance tyre slots into the range alongside the UltraGrip 8 – which came second in our winter tyre test.
This new design has different types of sipes – the small slits in the tread blocks – to pick up snow and get traction in winter. Some are standard zig-zags; others have the 3D BIS tech used in sister brand Dunlop's WinterSport 4D.
Angled blocks in the centre of the tread help with icy roads, and the tyre is designed to retain its elasticity in the cold, so it always has a large footprint to help with braking. There are lots of channels to shift water, and a large outer shoulder for getting rid of slush.
The newcomer should do well in the wet grip and fuel efficiency tyre label tests, as those channels help with aquaplaning, and the carcass is light so the tyre doesn't require much effort to turn.
There are 39 sizes between 15 and 19 inches, priced from £81.34 for the smallest 195/55R15 tyre.