Auto Express winter tyres test 2014
Our experts pick from eight of the best winter tyres for 2014
If everyone could compare winter tyres and conventional 'summer' tyres on snow, the UK would have a seasonal market, like those in mainland Europe. The difference is dramatic and the extra grip of the winter tyres hard to credit. In our comparison, a summer tyre failed to even get to half the test tracks on snow.
• See our more recent 2015/2016 winter tyres test here
Trouble is, as the temperatures drop, for most drivers in this country there's a big debate over whether to invest in winter tyres. On safety grounds there's no argument, while the costs aren't as steep as they appear – as your summer tyres aren't wearing out while they're off the car. Stocks in the UK improve every year and with 'hotels' to store your spare set, the case for switching with the seasons is ever more convincing.
So which should you buy to see you safely through this winter? We travelled to Nokian's Ivalo 'White Hell' proving ground, in the frozen north of Finland, and a very cold Continental Contidrom near Hanover, Germany, to find out.
We tested the big-selling 205/55R16 size. Our reigning summer tyre champ in this size provided a useful comparison, plus we included an all-season pattern to see how it fared.
What we tested
All our tyres had H speed ratings (up to 130mph), apart from the Michelin (T-rated; up to 118mph) and our summer tyre (V-rated; up to 150mph). All had a 91 weight rating. The list below also includes compulsory EU tyre label ratings for fuel economy (FE), wet grip (WG) and pass-by noise (N). The first two are ranked from A to G, with A the best. The noise rating is in decibels – the lower the figure, the quieter the tyre.
Snow braking
All the electronic wizardry in the world can't overcome a lack of grip. This test measures just how much there is when braking. On fresh snow at Finland's Ivalo proving ground, we repeatedly braked from 25mph, measuring the stopping distance down to 3mph, removing the big differences in the last few metres of coming to a halt.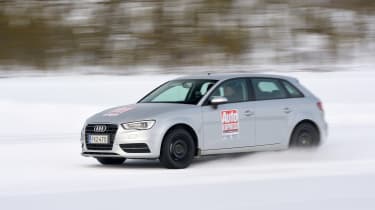 Snow traction
Key for making it up a snow-covered slope, this test rates which tyre will get you furthest. We accelerated from walking pace with the traction control switched on and measured the distance to hit 25mph. We did 12 runs and repeated the test to ensure a valid result.
Snow circle
As with the wet circle assessment in our summer tyre test, this measures lateral grip free from braking and acceleration forces. On freshly graded snow, we increased the speed until the nose pushed wide. The result is based on an average of several laps with extreme results removed.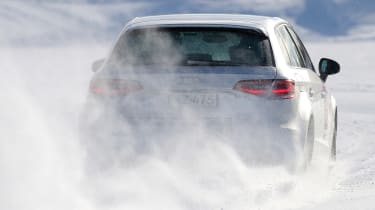 Snow handling
Intimidating is the only was to describe Ivala's rollercoaster handling track, with its blind brows, big elevation changes and worrying drops into trees if you get it wrong. We turned off stability control but kept the ABS on to time a series of laps.
Wet handling
The flooded handling track at the Contidrom in Germany provides just about every test for tyres, from hairpins to high-speed sweepers, as it winds its way through trees and rocks. An early start ensured we began testing at around freezing point, and we took an average of lap times to get a result.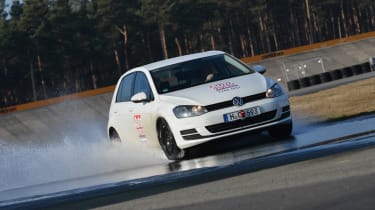 Wet braking
Again, careful timing meant we started testing at just above freezing in typical UK winter temperatures. Using the Contidrom's rail system to ensure the same tarmac was covered every time, we measured the distance taken to stop from 50mph. An average of several stops was taken to get a final ranking.
Straight aquaplaning
Although this isn't temperature critical, the ability to shift water from under the tread is key to winter driving. This test measures the speed when those small sipes and channels in a tyre fail to shift the water. With one wheel in 7mm deep water, we accelerated and measured wheelspin compared to the other wheel on dry tarmac.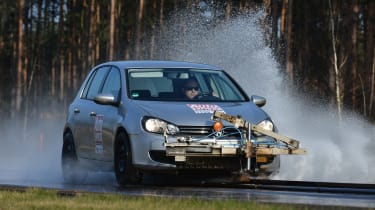 Curved aquaplaning
This is just the same as the straight aquaplaning test, as it measures the speed at which the tread can no longer shift the water underneath and loses grip. This time, though, the water-shifting channels are distorted through cornering forces. The car is driven through a flooded section on a tarmac circle at ever higher speeds until grip is lost.
Dry braking
Thinking of leaving winter tyres on your car all year round? This test shows just how much of a compromise that would be in the dry. We took an average of several emergency stops triggering the anti-lock braking system and measured the distance taken to bring the car to a halt from 62mph.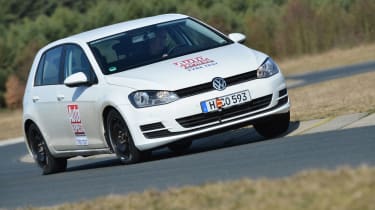 Dry handling
As with our dry braking test, this reveals how much of a compromise winter tyres are if used all year round. The handling track's long sweeps and fast direction changes put the flexible tread blocks and soft rubber to the test. Lap times were used to get a result.
Noise
While the pass-by noise rating quoted in EU tyre labels is key for the environment, drivers are more concerned about cabin noise. So we coasted over a range of surfaces – including rough tarmac and concrete – starting at the same speed each time, and took an average of sound readings.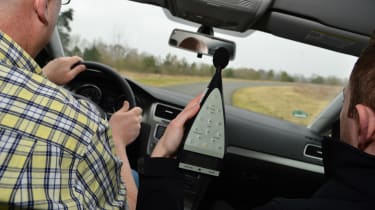 Rolling resistance
This is all about efficiency – as the more easily a tyre rolls, the less fuel is needed to make it turn. Our test is carried out to industry standards at a range of speeds. As a rough guide, a five per cent difference in rolling resistance equates to a one per cent change in fuel economy.
Price
In our view, cost is no way to choose a safety critical product like tyres, so price has a relatively small role to play in the overall result. But the figures we quote were supplied by Black Circles – Best Site in our test of online tyre retailers – and include fitting.
Winter Special 2014/15