Goodyear EfficientGrip Performance for winter
Summer tyre tested in winter conditions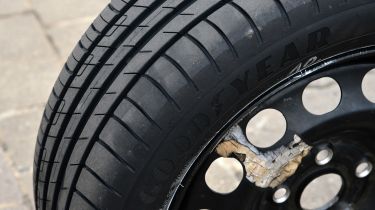 The fact we couldn't get to two of our snow tests on this tyre says it all about using regular summer designs in the harshest weather. After driving on winter rubber all day, we found the lack of grip scary – it shows why the UK grinds to a halt every time snow falls.
Even when it's just cold and wet, the summer tyre struggled to match winter rivals, needing five metres more to stop. And thisis our champion in this size; the gap would be bigger with other tyres.
On the handling track, we triggered the stability control and ABS very early. It turned in sharply, but was overwhelmed quickly as we applied more lock – not as scary as on snow, yet not the confidence-inspiring grip you get with a winter tyre.Only in the dry did the summer tyre have the edge, plus it's more efficient. But for the best chance of avoiding a mishap this winter, these need to come off when the temperature drops.
| | |
| --- | --- |
| Price | £67.99 |
| Snow braking | 39.30% |
| Snow traction | 29.60% |
| Snow circle | No result |
| Snow handling | No result |
| Straight aqua | 96.10% |
| Curved aqua | 79% |
| Wet braking | 86.20% |
| Wet handling | 96.30% |
| Dry braking | 109.50% |
| Dry handling | 102.10% |
| Cabin noise | 99.00% |
| Rolling resistance | 109.00% |
| Overall | No result |