Uniroyal MS plus 77 tyre review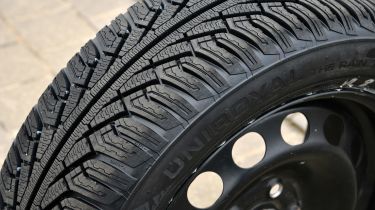 A promising return for Uniroyal, although the poor fuel economy is something of a surprise.
The introduction of the new MS plus 77 is part of a revival of Uniroyal by parent company Continental. It's a promising comeback for the brand, which focuses on wet road grip. So it was no surprise to see the tyre get closest to its Conti stablemate in the wet tests.
The MS plus 77 fared particularly well in the straight aquaplaning test, and was close to the best on the handling track. It felt secure with the rear well under control, if not quite as sharp as some.
This good form was continued in the frozen north, where it was only beaten by winter specialist Nokian. The Uniroyal took podium places in the snow braking and traction tests, plus on the circle, where good front grip helped on the long turn. That front grip meant lots of sliding at the rear around the handling course – easily controlled, but the balance could have been better and you had to be patient on the throttle out of slow turns.
Yet the focus on snow and wet grip hampers performance in the dry, where the MS plus 77 came last on the high-speed track. It was only a fraction off the winner here, but in the dry braking test it took three metres longer to stop than the top Nokian. It impressed in the noise test, but rolling resistance wasn't what we'd expect of a new design in the tyre labelling era – hard to understand when Continental obviously has the technology in its ContiWinterContact.
| | | |
| --- | --- | --- |
| Price | £101.99 | |
| Snow braking | 99.60% | 2nd |
| Snow traction | 99.20% | 2nd |
| Snow circle | 99.90% | 3rd |
| Snow handling | 98.30% | 4th |
| Straight aqua | 99.30% | 2nd |
| Curved aqua | 90% | 5th |
| Wet braking | 95.40% | 5th |
| Wet handling | 98.40% | 5th |
| Dry braking | 93.70% | =7th |
| Dry handling | 98.60% | 8th |
| Cabin noise | 99.20% | =3rd |
| Rolling resistance | 85.60% | 6th |
| Overall | 98.60% | 4th |