Fact or fiction? 10 winter driving myths busted
We separate motoring fact from fiction to keep you moving in the cold winter weather
As the icy grip of winter sets in, it's always advantageous to take your time and go through a few extra steps when out on the road. They're pretty simple, but tips like taking more time to clear snow from your car or making sure the best wipers and lights are fitted means you stay safe out there.
What's more, however, is knowing how to treat your car during the winter conditions. Winter car maintenance throws up a host of myths and fables concerning what you can do to keep your car on the road - some of which could cause damage, harm your wallet or even cause you personal risk.
The last thing you want on a cold day or night is to be stuck at the side of the road, slowly being turned into a snowman. That's why we've compiled a list of common winter driving myths below, and explain what actually does help.
Top 10 winter car myths busted
1. Clearing screen
Don't pour boiling water on a frozen windscreen to clear it; the extreme temperatures are likely to cause the glass to crack. Instead, fit a frost cover the night before. Bluecol's Magnetic Frost Protector (best price £5.49, bluecol.co.uk) should prevent ice forming in cold conditions.
2. Tyre pressures
Reducing air pressure in tyres won't increase traction when driving on snow and ice. In fact, it could make things worse. Keep on top of your tyre pressures by using a footpump or 12V tyre inflator. Michelin's Digital Double Barrel Footpump (best price £24.99, michelin.com) and Ring's RAC630 (best price £32.99, ringautomotive.co.uk) are our favourites.
3. Opening frozen windows
You can damage electric window motors, surrounding trim and even the glass by trying to open frozen side windows. And even spraying de-icer on the glass doesn't guarantee they'll open immediately. So continue to use a de-icer – like Bluecol's 3-in-1 (best price £5, bluecol.co.uk) – to clear frost, but also use Halfords' Night Before De-Icer (best price £2.99, halfords.com). And allow more time than usual for windows to warm.
4. Replace blades
If your wiper blades are worn, trying to extend their life by coating them in vinegar, for example, won't work. In winter especially, just replace them. Our favourite flat designs are Bosch's Aerotwin blades (best price £16.99, bosch-automotive.com) – these are available in different sizes for a wide range of makes and models. If you car isn't compatible with flat blades, visit a motor factor to find a suitable set.
5. Clear snow
It's no myth that the police can fine you if your car's roof and windscreen are full of snow, as this contravenes the Highway Code. So clear your car before setting off – and not just enough to barely see. To reach all the way around, use Muc-Off's Soft Washing Brush (best price £5.01, muc-off.com), while a Sakura Ice Scraper Brush (best price £5.99, sakura.co.uk) can get to the finer frosted bits.
6. Winter tyres
They're not just for snow and ice – winter tyres hold an advantage over summer or all-season tyres in any weather once the temperature is below seven degrees Celsius. The rubber they're made of is better adapted to work in the cold and the tread pattern helps shift water quickly, so the tyre can grip the road.
7. Rear-wheel drive
Don't rule out driving your rear-wheel-drive car in snow and ice. By fitting snow belts, chains or socks to the powered wheels, you should boost traction considerably – and this also applies to front-wheel-drive vehicles and 4x4s. The universal Put&Go Snow Belts (best price £79.08, put-and-go.com) fit most makes and models, and come with enough straps to fit two wheels.
8. Don't dazzle
Driving with more lights on than you need won't always help during periods of snowfall. Foglamps can be used when visibility is reduced, but in normal circumstances you'll only need to use a dipped beam to see and be seen. In using extra lighting, you're only likely to dazzle other drivers. Consider upgrading your headlight bulbs instead – our headlight product test of H4 twin-filament halogen bulbs named the best, with the Osram Silverstar 2.0 (best price £11.05, osram.com) and Philips X-tremeVision (best price £18.52, amazon.co.uk) coming out on top.
9. Disconnecting battery
Many drivers might consider disconnecting the battery if their car is left standing in the cold, but it won't necessarily conserve power. If anything, it could do more damage than good as alarm power and important computer memory can be lost. There's no easy way to stop a battery losing charge in freezing temperatures, but you can keep it topped up with a charger. CTEK's MXS 5.0 (best price £59.99, ctek.com) has a trickle charge facility, and will stop once the cell is charged for easy maintenance.
10. Avoid back roads
Sticking to busier roads makes sense in the worst winter weather. They're more likely to be gritted and there should be other motorists around to help you if you break down. Use a sat-nav to stay on these major routes – our favourite is the Garmin nüvi 3598LMT-D (best price £259.99, garmin.com), which will point you in the right direction.
Winter driving special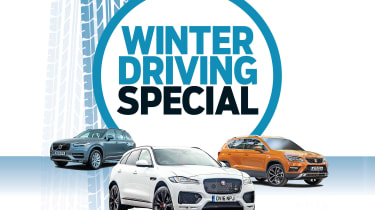 Best winter cars
Get ready for winter on the roads
Top tips for winter driving