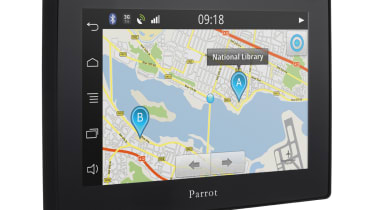 The five-inch touchscreen Asteroid Tablet attaches to your car like a sat-nav, with a suction cup mount that can be secured to the windscreen or dashboard.
There's an intuitive steering wheel remote to control the basic functions, as the tablet doesn't have any buttons. You can plug in your iPod using one of the three USB connections (hidden away in a junction box), or play music from your phone using Bluetooth, plus there's voice recognition.
The Asteroid app store lets you download software, too – so you can add the free iGo sat-nav app or Internet radio apps – but you'll need to pair a 3G dongle or smartphone to the Tablet to access the Internet.