Alloy wheel protector mini test
We test a pair of alloy wheel kits to see if they can eliminate kerbing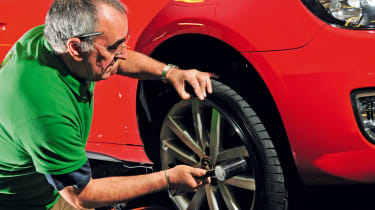 Alloys look smart only when they're in pristine condition. Be careless when parking and kerb them, and they can be ruined – costing a fortune to refurbish.
Alloygator rim protectors cover the edges of your wheels to keep them safe from harm and, until now, have had this market all to themselves. But new Rimblades claim to offer similar protection in just as many colours.
So which is better? We fitted Alloygators on the driver's side of our test car and Rimblades on the passenger side to find out.
Our test looked at how easy each was to fit, then we rated the protection the products offered by driving very slowly along the same stretch of kerb, noting any scuff marks to each protector or alloy wheel. Cost was the final factor.
The Rimblades proved far easier to fit than Alloygators – they stick on in minutes once you've cleaned the wheel. The trouble is they don't provide as much protection, with damage showing up more quickly. So although Alloygators are pricey, they're much more durable.
Get 10% off Motoreasy's alloy wheel insurance with the code: AUTOEXPRESS10