Best map apps for your tablet or smartphone
Which road map works best on phone and tablet? We test eight of the best map apps to find out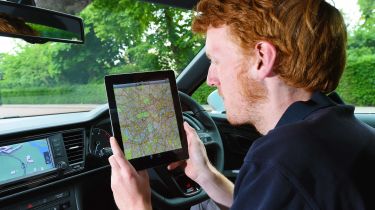 Smartphone apps, portable sat-navs and built-in systems may have succeeded printed road maps in helping drivers plan routes, but the traditional atlas has also made the digital leap, as map views can be displayed on phone and tablet screens.
Instead of having the large and often cumbersome paper atlases taking up space, apps kept on a handheld device save room and map databases can be easily updated. Plus, touchscreen controls make panning around displays easier, and finding specific place or street names is as simple as typing in text – giving users the benefit of a paper map but with the ease of a tablet. We loaded up eight to pick a winner.
How we tested them
we tested these apps on a mixture of Apple's iOS-based devices and Android smartphones and tablets; some could be run on a wide variety of platforms.
Apps that allowed us to download maps impressed, as this makes them easier to use without a data connection, which is really useful on the road, when signal can be patchy.
But price was also key, so we took into account the cost of downloading each app, plus any in-app purchases. Another important factor was how easy it was to search for specific points, and overall usability was factored in, too.
Verdict
Outdoors GPS storms to victory on its Auto Express test debut, followed closely by RouteBuddy, which has been much improved since we last rated it. OS Map Finder has to settle for third position this time round.
1. Outdoors GPS2. RouteBuddy3. OS Map Finder