Goodyear UltraGrip Performance + review
Great on the snow, but the Goodyear UltraGrip Performance + can't compete with rivals in the wet and dry conditions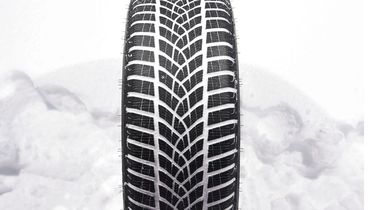 In association with

When we tested 17-inch tyres last year the UltraGrip Performance + was brand new and romped to a clear win, with six test wins and two runner-up spots. But in 16-inch form it produced just two wins and a far more mixed performance. 
Its troubles were away from the frozen north in the wet and dry. Yes, it took a curved aquaplaning win, but it was only fourth over the wet tests, although it was close to the top performers, finishing around four per cent off the best. 
It felt good on the handling track, with decent balance and good front grip plus a well controlled rear. It held on to that grip for longer as lock was increased. The feeling was similar to last year, but its lap time was three seconds off the best, and that comparative lack of grip was reflected in the wet circle test, too. 
The UltraGrip's  weakest surface in 2019 was the dry, and it was the same this time. Again it was happiest on snow, where it was the second best. It wasn't as balanced as some, with a strong front upsetting the rear, but still good enough to finish little over a second behind the winner.
We say: No repeat win for the UltraGrip Performance +. It remains a top performer on snow, but has to give best to some rivals in the wet and dry.
Blackcircles.Com says: A good seller after its previous win. Buyers have been impressed with the tyre, scoring it 4.9/5 overall. Reviews often comment on wet performance, plus stability on snow and ice.
| | | |
| --- | --- | --- |
| Overall | 98.1% |   |
| Snow braking | 99.6% | 2nd |
| Snow traction | 100% | 1st |
| Snow handling | 98.9% | 4th |
| Straight aquaplaning | 95.8% | 5th |
| Curved aquaplaning | 100% | 1st |
| Wet braking | 97.4% | 4th |
| Wet handling | 96.7% | 5th |
| Wet circle | 96.8% | 7th |
| Dry braking | 93.7% | 7th |
| Rolling resistance | 87.5% | 5th |
| Cabin noise | 99.7% | Equal 3rd |
| Price | £118.22 |   |