One-off Alfa Romeo MiTo By Marshall revealed
Alfa Romeo and Marshall team up for a one-off MiTo, featuring bespoke sound system for electric guitars
If you've ever praised Alfa Romeo while lamenting its lack of electric guitar connectivity, the MiTo By Marshall concept car could be the answer to your niche prayers.
The one-off collaboration is based on the 2014 MiTo in mid-range Distinctive trim – normally priced from £15,550 – and has been kitted out with a bespoke Marshall JVM 50 watt amp head that runs two 12-inch 75-watt speakers. Installed in the boot and powered by a dedicated battery system, this system allows the driver to stop and hook up a guitar anywhere – although it will unsurprisingly impact on the standard car's 270-litre seat up load capacity.
Marking the special Alfa Romeo out is Marshall's distinctive gold panel finish for the grille, wing mirror caps and door handles, as well as the side door trim, lower bumper finish, and front and rear light surrounds.
Elsewhere, the Bletchley-based audio giant has added late founder Jim Marshall's signature above the side indicators, a #LIVEFORMUSIC graphic hashtag (the company slogan) on the rear windscreen, and Marshall badges on each rear pillar.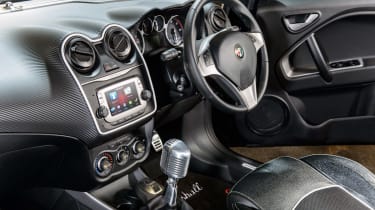 Further establishing the MiTo By Marshall's music connections is the classic Shure SH55 microphone gear stick, which replaces the standard shift and is engraved with the six-speed layout.
On top of this, the front and rear seat upholstery is made from the same materials used for Marshall amplifiers, including grille cloth and white piping, the link underlined by centrally-mounted Marshall logos on each front seat. 
There's more white piping around the centre console, too, as well as additional gold panel detailing on the Alfa D.N.A selector surround, air-con dial and climate control. In case it wasn't clear enough, Marshall has also made its mark thanks to branded tread plates on the doorsills and – co-labelled with Alfa – floor mats.
Power will come from the most powerful diesel in the MiTo range, the 120bhp 1.6 JDTm-2 engine, and Alfa has also fitted 18-inch alloys, red brake callipers, plus aluminium sports pedals and chrome exhausts. Infotainment comes in the form of a 5-inch Uconnect colour touch screen, featuring Bluetooth, voice recognition, and USB/Aux inputs.
The Alfa Romeo MiTo By Marshall is set to debut officially at an invitation-only event at London's Olympic Studios later today, before heading to a series of automotive and music events throughout the rest of the year.