Alpina B4 review
Alpina has reworked the BMW 4 Series in its own inimitable style - the resulting Alpina B4 offers a more refined BMW experience
Find your Alpina B4
Offers from our trusted partners on this car and its predecessors...
Or are you looking to sell your car?
Advertisement
When you step into an Alpina B4, there's an immediate appeal to the way it feels. It's just as punchy as an M4, but with a more relaxed character in terms of power delivery and ride comfort, it's the car for people that think an M4 might be just a little too much. The fact that it costs almost exactly the same as the M4 makes this choice a very difficult one.
If the new BMW M4 is a bit brash, or perhaps a bit too obvious for you, then you may want to look in the direction of this new Alpina B4.
The manufacturer has taken a BMW 435i and reworked almost every component to create a car that easily stands alongside the M Division's creation in terms of performance. Alpina has turned the 3.0-litre six-cylinder turbo of the 435i into a twin-turbo, boosting power from 302bhp to 404bhp – it's not quite the 431bhp on offer in the M4, but the B4 does have more torque.
That extra torque makes itself known in a smoother, more gradual hit of acceleration than what's on offer in the M4. It feels like a far more relaxing car to drive, despite the fact it's almost as fast – 0-62mph takes just a tenth of a second longer at 4.2 seconds. With quad Akrapovic exhausts it also has more of an understated burble, with a bit of turbo whoosh from under the bonnet, too.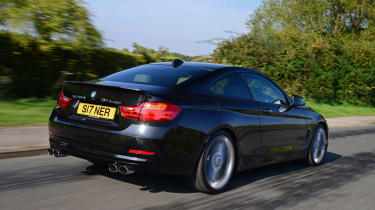 Buyers should know that the B4 makes do with an eight-speed auto – tweaked by Alpina – rather than the M4's twin-clutch gearbox, but it feels just as smooth and quick to shift. Part of Alpina's appeal has always been that its cars have improved handling, but retain the same levels of comfort as their donor car. Thanks to new springs, dampers and tyres there's no arguing with the B4's serene ride quality, but the M4 would have the measure of it round a track.
It also rolls that little bit more, lacking the precision you get from the M car. On the plus side, that means it feels more approachable than the M4, and sharper than a standard 435i. If you're serious about handling then it's worth going for the £1,890 limited-slip differential.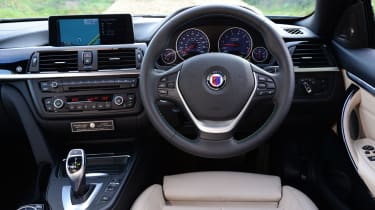 There's barely any difference in price. The Alpina costs £58,950, while an auto M4 will set you back £59,135, so the choice comes down to what you want: the left- field option that trades precision for refinement and comfort, or BMW's tried and tested M4. 
Read our review of the standard BMW M4