The Nissan Juke - from concept origins to new hybrid model
Charting the history of the Nissan Juke - a genre-defining compact crossover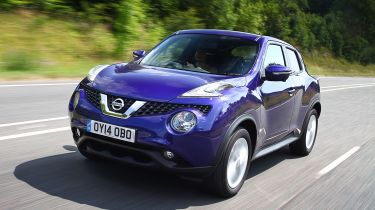 Advertisement feature from

A trend-setter
Back in 2009 at the Geneva Motor Show, the Nissan Qazana concept was proudly shown off to the world's motoring press. Already by that point, the idea of what an SUV could be and who might want to buy one had rapidly evolved thanks in large part to the Nissan Qashqai - no longer did such vehicles have to be big, heavy and complicated. 
The Nissan Qashqai had shown that the benefits of an SUV body style could be applied to a vehicle based on a car platform to create a 'crossover', resulting in better fuel economy, more flexible packaging and a more tempting purchase price. The Qazana represented a further evolution of this concept, downsizing it to broaden the appeal of SUVs even more.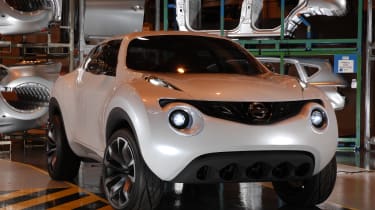 The Qazana is a name that won't mean much to the average car buyer, but the production version it spawned is a very familiar one - the Juke. Only slightly altering the Qazana's dramatic aesthetic - said to be a modern interpretation of a beach buggy - the Juke looked like nothing else on the road. 
It wasn't just styling that set the Juke apart from other cars. The compact crossover segment hadn't really been established back then, and the Juke was ready and waiting to help lead the charge. Buyers took to the car in droves, with the millionth model rolling off the Sunderland production line in 2018. 
New beginnings
All good things must come to an end, so in 2019, this genre-defining crossover made way for an all-new version. The second-generation Juke is just as boldly styled, giving a clear link to its predecessor, but packed with a raft of improvements.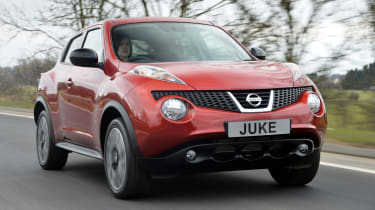 It's longer and wider than the car it replaces, giving more cabin room and boot space, yet the Juke still managed to shed 23kg. The interior feels more premium than ever, with plusher materials and tech highlights which include an eight-inch infotainment system with Apple CarPlay® and Android Auto™, plus a Bose® eight-speaker sound system.[1]
The Juke electrified
Now, we're ready for the next chapter in this hugely popular model's story - the Juke hybrid. Combining a 1.6-litre petrol engine with a 1.2kWh battery back and an electric motor, the first-ever electrified Juke is good for 141bhp. It isn't just 25 per cent more powerful than the regular petrol Juke; it's expected to be up to 40 per cent more efficient, too.[2]
During testing, Nissan's engineers managed to complete an urban journey with the Juke hybrid's pure EV mode engaged for up to 80 per cent of the time.[3] The vehicle always starts in electric mode and can travel at speeds of up to 34mph without the internal combustion engine firing up. As you'd expect, the provisional economy and CO2 emissions figures are impressive at up to 54mpg and 118g/km[2].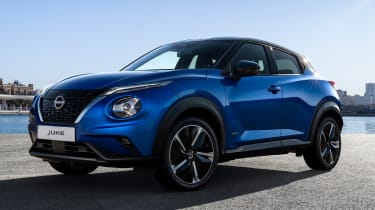 Helping to enhance the electric driving experience further, the Juke hybrid features an 'e-Pedal Step' system which, when activated, enables the driver to speed up and slow down the car to 3mph using only the accelerator pedal, with the brake pedal only necessary for stronger deceleration and to bring the Juke to a standstill. 
Partnership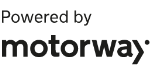 Need to sell your car?
Find your best offer from over 5,000+ dealers. It's that easy.
The Juke's striking styling remains, but with some important tweaks aimed at optimising aerodynamic efficiency. The updated front grille has a smaller opening, made possible by the hybrid powertrain's lower cooling demands, and there's also a grille shutter that automatically adjusts depending on how much airflow is required at the time, helping to minimise aero drag. At the rear, there's a reshaped spoiler to support cleaner airflow behind the car. 
All of these adjustments work together to save every Juke hybrid owner money at the pumps while reducing their carbon footprint.[4]
Discover more about the Nissan Juke at nissan.co.uk. Download a free guide to learn about electrified vehicles.
[1] Android Auto and Apple CarPlay standard from Acenta Grade. Bose sound system standard from Tekna grade. Android is a trademark of Google LLC. Apple CarPlay is a registered trademark of Apple Inc.
[2] Juke hybrid WLTP figures subject to homologation in 2022. WLTP figures shown are for comparability purposes. Actual real world driving results may vary depending on factors including weather conditions, driving styles, vehicle load or any accessories fitted after registration.
[3] Actual real world driving results may vary depending on factors including weather conditions, driving styles, vehicle load or any accessories fitted after registration.
[4] Compared to a conventional combustion petrol engine Juke.