Aston Martin developing all-new platform for DB9
Aston to ditch VH architecture for an all-new platform in next-generation of sports cars, beginning with new DB9 in 2016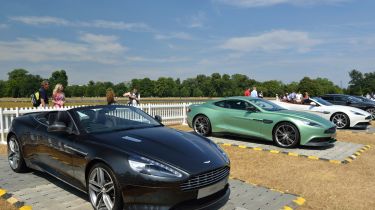 Aston Martin is working on an all-new architecture that will underpin a new generation of sports cars, beginning with the DB9 replacement in 2016, Auto Express has learned. It spells the end for the ageing aluminium VH architecture that has underpinned every Aston, barring the One-77 and Cygnet, since the original Vanquish in 2001.
In an official press release this week, announcing 2013 total revenue up 13 per cent to £519m and global volumes up 11 per cent to 4,200, Aston's Chief Financial Officer, Hanno Kirner revealed Aston was working on "a completely new architecture and technologies to ensure that our next generation of sports cars is at the forefront of design, performance and technology."
He added: "The strategic partnership with Daimler AG will bring with it cutting edge electrical and electronic expertise, and the shared development of world-class bespoke V8 powertrains."
Initial reports suggested this new architecture was simply a revised version of the VH architecture with new electrical systems taken from the strategic partnership with Mercedes, but it now appears the platform will be a clean sheet design. Specific details on its construction aren't yet available, but given Aston's expertise in bonded aluminium structures, it's safe to say that's the route it will take. Expect it to be significantly lighter, more rigid and highly flexible in terms of wheelbase and track width.
It's now clear that the next-generation DB9, due in 2016, will be the first model to benefit from the new architecture, and the deal with Mercedes to use turbocharged AMG V8 engines and electrical systems. When we spoke with Mercedes CEO Dr Dieter Zetsche back in 2013 he told us it "usually takes three to four years to see the results" of a technical partnership like this, which tallies perfectly with Aston's time frame for delivering the new DB9.
So while the chassis and bodywork of the new DB9 – and subsequently a replacement for the V8 Vantage – will be developed in-house by Aston, the engine, gearbox and electrics will be borrowed from AMG. The most likely engine candidate is a bespoke version of AMG's latest 4.0-litre twin-turbo V8, set to debut in the AMG GT later this year with around 500bhp.
Kirner confirmed that Aston "will, in the next few years, be implementing the biggest investment programme in our 101-year history, preparing the ground for new and exciting products in the future." However, our latest information suggests the product plan doesn't include an SUV as previously thought. To make that project stack up Aston would need to buy a chassis from elsewhere – tipped to be from the Mercedes ML – but it would appear Mercedes isn't interested in extending the existing tie-up beyond engines and electrical systems for now.