Aston Martin Virage Shooting Brake Zagato unveiled
Zagato unveils coach-built Aston Martin Virage Shooting Brake to complete centennial trilogy
Italian coachbuilder Zagato has renewed its partnership with Aston Martin to launch a one-off take on the Virage.
Called the Aston Martin Virage Shooting Brake Zagato, it was commissioned by an unnamed European customer and debuted at last week's Chantilly Arts & Elegance Concours D'Elegance.
Zagato's latest exclusive creation takes the standard Virage coupe and extends the sloping roofline to create a more practical shooting brake body style. According to an official statement, the look offers a "modern interpretation with design cues of the Aston Martin V8 Vantage and Volante of the mid 80s," and apparently "creates surprise and fascination with a new shape while maintaining Zagato and Aston Martin's core design values."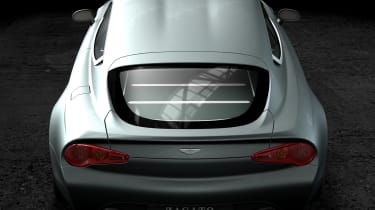 These retro-themed changes result in a more angular overall look, including sharp shoulder lines running down the flanks, and slight front and rear indents. Zagato has also revised the Virage's rear lights, reshaped the side skirts and rear bumper, and fitted new round-edged exhausts.
Surface tweaks aside, the Virage Shooting Brake Zagato is understood to carry over its original Aston Martin underpinnings, including the 490bhp V12 6.0-litre engine and rear-wheel drive layout.
This latest bespoke project is the second world premiere in 2014 for Zagato Atelier – the Lamborghini 5-95 Zagato arrived in May – and helps mark the firm's 95th anniversary.
The Aston Martin Virage Shooting Brake Zagato also serves to complete the centennial trilogy – Zagato's tribute to 100 years of Aston Martin – a range started in 2013 with the DB9 Spider Zagato Centennial and DBS Coupe Zagato Centennial.
What do you think of Zagato's latest Aston Martin creation? let us know in the comments section below...