New Audi A8's self-driving tech to use 'geofencing' to obey local traffic laws
Audi's latest autonomous car tech in the new A8 could feature a geofencing system to keep it on the right side of the law.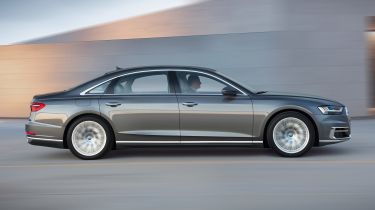 The new Audi A8 may use 'geofencing' to activate and deactivate its autonomous technologies to comply with regional laws, a senior source at the company has suggested.
The fourth generation of the Ingolstadt brand's range-topper was revealed in Barcelona last week. It uses more than a dozen sensors, including a front-mounted laser scanner, to offer at least the capability of 'Level 3' autonomy. Audi's implementation of this, called Traffic Jam Pilot, would allow the driver to focus on other activities - including, the firm claims, watching movies on the in-car infotainment system - at speeds of up to 37mph on multi-lane roads where the oncoming traffic is at the other side of a barrier.
• Driverless cars: everything you need to know
However, global legislation is fragmented on autonomous tech - even within Europe, where every country has been making different rates of progress on the laws required to allow drivers to 'switch off' behind the wheel. America is potentially even more complex, because legislation rests with states instead of federal government - so Level 3 could, for example, be legal in California and then outlawed a few miles later in Nevada.
Speaking at the A8 reveal, Audi's board member for Sales and Marketing, Dietmar Voggenreiter, admitted to Auto Express that the car will have redundant aspects of its autonomous tech, depending on where the vehicle is being used.
"We will use the car's systems to offer the best assistance services available in any given market," he said. "This means that the Traffic Jam Pilot will work perfectly but in a lot of countries, because of the legislation, you will have the responsibility, not the car. You'll have to be close to the steering wheel, keep your hands on the wheel… you know, these things like the 10-second limit between having your hands on the steering wheel. This is the difference between assistance systems and autonomous systems.
"In some markets, or even a lot of markets, we won't be able to sell a full autonomous driving option. But over the life cycle of six or seven years of the car, we will see in a lot of markets changes in terms of legislation for autonomous driving. And then our car is prepared. The hardware is in, the redundant solutions like steering and braking systems - all of this is in. The car is prepared for Level 3. So if the legislation allows, we can switch it on.
• Autonomous car levels explained
Voggenreiter stated that the A8 will be able to activate and deactivate its own features if it crosses a country or state border that brings a change in regulation. "We would then use geo-fencing for this," he said. "We know where the car is and when the car crosses the border we would then switch it [Level 3] off or on, as appropriate. This technology is available. But our wish, hopefully, is that every state in the US and every country will allow autonomous vehicles in the long run."
Voggenreiter also conceded that other manufacturers may be less willing to assist with lobbying, now that Audi has brought a Level 3-capable vehicle to market. But he added, "It was always clear for us to be first with the technology in the market, and then we have to adapt it to the legal situation. We are now leading, but unfortunately the environment is not prepared yet for this leading technology. We have to see what happens over the lifetime of the A8."
Get the full story on Audi's new A8 saloon here...