New Audi Q1 SUV set to arrive in 2020
Smallest member of the Audi Q family expected to get the go-ahead, with its arrival due in two years' time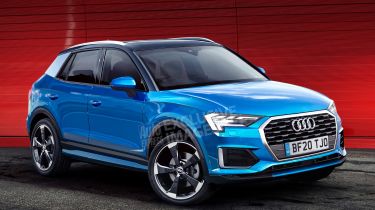 Audi's SUV range is set to continue to grow apace, with a new baby Q1 SUV expected to be given the green light for production, Auto Express can reveal.
This new entry point into Audi SUV ownership is still a few years away from production, although it should be here before the end of 2020.
• Best crossovers and small SUVs on sale
Unlike upmarket rivals BMW and Mercedes, Audi has pedigree when it comes to producing premium cars at a lower price point. The A1 supermini has been around since 2010 and is continually one of Audi's big sellers in Europe, shifting almost 100,000 examples every year.
When asked about the prospects for a Q1, Audi sales and marketing boss Bram Schot told Auto Express: "You cannot ignore the SUV trend; the question is how wide and how deep do we make the programme with SUVs?
"Depending on the business opportunities, we decide on the future product portfolio. But don't be surprised if in two or three years you do see the car, as we try to react fast to markets," the Audi executive added.
The German brand is likely to use the next version of its popular A1 supermini - spied during winter tests - as a base for its upcoming baby SUV. The second-generation A1 arrives at the end of this year and will share a large proportion of its DNA with the Q1, along with some of that car's styling, as shown by our exclusive image.
Both new models will be based on the smallest version of the Volkswagen Group's MQB platform, which is already found beneath the skin of the latest SEAT Ibiza and VW Polo. That means the Q1 will use the latest generation of petrol and diesel engines, which will include a three-cylinder 1.0-litre turbo petrol, a more powerful 1.5-litre unit, and a 1.6-litre diesel.
By the time the Q1 arrives, mild hybrid technology will also have started to filter its way down through Audi's product line-up. The flagship A8 saloon introduced the system, which uses a small starter-generator to assist the engine during acceleration, boosting performance and efficiency.
The A8's set-up may be too pricey for a car of the Q1's size, but Skoda used Geneva to show off an MQB A0-based system, again featuring a 48V starter-generator, that could be suitable.
The Q1 won't be the only new SUV from Audi in the next few years; the German brand has already confirmed a flagship Q8, which will fight it out with the Range Rover, and an all-new Q4.
On top of that, high-performance versions of the brand's Q5, Q8 and next-generation Q3 are also in the pipeline.
Where do Audi's SUVs rank among the best in the crossover class? Take a look at our top ten…