Used Audi Q3 (Mk1, 2011-2018) review
The Audi Q3 Mk1 impresses with its classy cabin and efficient engines, but it's neither the roomiest nor most affordable small SUV out there
Verdict
The Audi Q3 Mk1 was a strong contender in the premium small SUV class when it was new, and those qualities have transferred over well to used models. With its upmarket interior, good ride and handling balance and well-rounded engine options, the Audi makes a strong case for itself as a second-hand family car. However, some rivals offer more interior space than the Audi, and a lot of desirable equipment was only available as optional extras. The Q3's strong residuals also mean you may struggle to find a low-cost bargain in the classifieds.
Which one should I buy?
Best used Audi Q3 Mk1 for low costs 2.0 TDI manual 150 Sport
Best used Audi Q3 Mk1 for performance RS Q3 performance quattro
Best used Audi Q3 Mk1 for towing 2.0 TDI quattro 184 S-Line
The Audi Q3 Mk1 was Audi's first attempt at a premium small SUV. It went on sale in November 2011 in two trim levels – entry-level SE spec and a range-topping S-Line trim – and with an engine range comprising a 175bhp 2.0-litre diesel and a 2.0-litre petrol in 168bhp and 208bhp flavours.
By July 2012, that selection had expanded to include a 138bhp 2.0-litre diesel, and in March 2013 it widened further with the introduction of a 1.4-litre petrol engine with 148bhp and an S-Line Plus trim level for all-wheel-drive models. Q3 Mk1 buyers who wanted more performance potential from their car would be catered for with the 305bhp RS Q3 model that launched in February 2014, which was made even faster when power was boosted to 335bhp in January 2015.
In April 2015, the Audi Q3 Mk1 range was given a mid-life update, which would take the small SUV through to the end of production in 2018. Key changes included more standard kit, a tweaked exterior design and a mild power bump for the two 2.0-litre diesel engine options.
Standard equipment and safety feature levels were generally good across the board, and all of the engines suit the car well, so your ideal spec will depend on personal preferences. The diesel models in lower trim levels will represent the most affordable way into Audi Q3 Mk1 ownership, with the more powerful cars in higher trim levels coming with better performance and equipment levels – though they're also more expensive to buy and run.
What are the alternatives?
Many premium car companies were building small SUVs when the Audi Q3 Mk1 was on sale, so there are plenty of alternatives to pick from. Rivals from compatriot car makers include the Mercedes GLA and BMW X1, with other upmarket offerings ranging from the Volvo XC40 to the DS 4 Crossback and the Range Rover Evoque.
The Mini Countryman is a respectable shout, too. While it wasn't quite a direct rival to the Audi Q3 Mk1 when new, it did bridge the gap somewhat between premium small SUVs and their more mainstream counterparts. Speaking of which, there's lots of choice if you aren't ruling out non-premium small SUVs – for example, there are the Ford Kuga and Mazda CX-5 to consider.
Audi Q3 vs BMW X1 vs Volvo XC40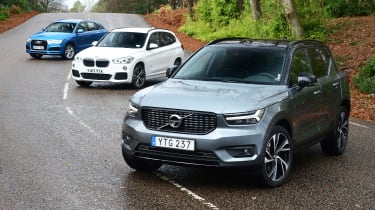 In January 2018, we pitted the Audi Q3 Mk1 against the BMW X1 and an early pre-production version of the Volvo XC40. While it was able to keep pace with its newer-at-the-time rivals when it came to performance, the Audi Q3 was starting to really feel its age in interior technology and ride and handling, so we ranked it worse than the BMW and the victorious Volvo. Read the full test...
Audi Q3 vs Range Rover Evoque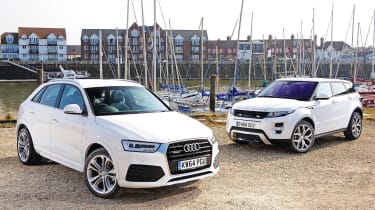 Fresh from a light mid-life refresh, the Audi Q3 went up against the Range Rover Evoque in our upmarket SUV head-to-head from June 2015. In this test, the Audi Q3 Mk1 emerged as the winner, thanks to its sharper handling, more efficient diesel engine and superior performance. Read the full test...
Audi Q3 vs Volvo V40 Cross Country vs DS 4 Crossback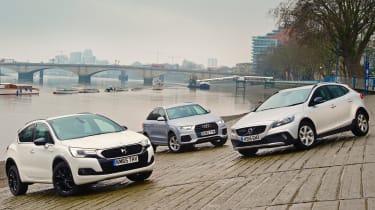 In our upmarket crossover group test from June 2016, the Audi Q3 went up against two less-conventional rivals. As well as competing with the DS 4 Crossback, it was also pitted with the Volvo V40 Cross Country, which was a higher-riding version of the regular V40 hatchback. While the Audi Q3 was the priciest car here, we reckoned it was worth the extra thanks to the roomier interior and better performance, so we rated the Audi ahead of the DS and Volvo. Read the full test...
How much will a used Audi Q3 Mk1 cost?
The Audi Q3 Mk1 has held on to its value well, so expect to pay a bit more for a used Q3 than you would for a like-for-like model from a more mainstream manufacturer. Fuel economy is good from the diesels and the least powerful petrol models, although the more potent models are more expensive to run.
Prices 
Thanks to its premium image, the Audi Q3 Mk1 has held on to its value quite well. While this means you'll need to pay a bit more than you would for an equivalent car with a less prestigious badge, it should also mean you'll get a decent amount of your money back when you sell the car on again.
Because the Audi Q3 Mk1 was a strong seller, a healthy number of used examples are available on the used market, with a decent spread of diesel and petrol options to choose from. Entry-level engines and trims will be the more affordable options, with prices rising for models in plusher trim levels.
Partnership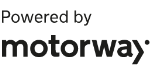 Need to sell your car?
Find your best offer from over 5,000+ dealers. It's that easy.
You can check out the latest used prices for a used Audi Q3 Mk1 on our sister site Buyacar.
Fuel economy and emissions
If fuel economy is the main priority for you when you're buying a new car, then you'll likely be best catered by one of the diesel Q3 models. The least powerful diesel engine is the most efficient of them all, with claimed fuel economy of up to 62.8mpg and CO2 emissions of 116g/km. The more powerful diesel isn't as frugal, but neither is it wildly inefficient at 54.3mpg and 136g/km.
Unsurprisingly, the petrols can't match the fuel economy of the diesel models, though what they are capable of is still pretty decent. Audi claimed the 1.4-litre petrol was capable of up to 51.4mpg, and quoted CO2 emissions of 127g/km for that car. For the 2.0-litre petrol options, fuel economy and emissions of 38.7mpg/174g/km, 42.8mpg/152g/km and 36.7mpg/179g/km were quoted for the 168bhp, 178bhp and 208bhp versions respectively.
Expect lots of trips to the petrol station if you plan on using the RS Q3 version as your daily driver. Audi claims this version could manage up to 32.8mpg, and the CO2 emissions of 203g/km mean it sits in a high tax bracket.
Running costs
Service intervals are variable on many Audi Q3 Mk1s, with intervals running up to 24 months or 18,600 miles, whichever comes first. A more frequent service schedule of up to 12 months or 9,300 is also available, which Audi recommends for Q3 Mk1 owners with a lower annual mileage and do most of their driving around town and built-up areas.
Prices for minor and major services range from £170 to £338, although most prices will generally range between £250 and £280. Additional maintenance costs include brake fluid replacement, which needs to be carried out every two years at £65 a pop, and there's an £80 fee once every three years to re-gas the air-conditioning system. The 2.0-litre diesel and 1.4-litre petrol engines also have a cambelt that needs replacing every 140,000 miles, which will set you back around £495.
Being a premium car, the Audi Q3 Mk1 will likely be a bit pricier to insure than mainstream alternatives, although the costs should be comparable with rivals that sit in similar insurance group brackets. The insurance group the Q3 Mk1 sits in depends greatly on the spec and engine – entry-level 2.0-litre diesel models start from insurance group 18 and top out at insurance group 37 for the high-performance RS Q3 model.
What do owners think?
The Audi Q3 Mk1 bodes well as an ownership prospect, because it's a car that has performed very well in our Driver Power customer satisfaction survey. In its last appearance in the 2018 edition, the first-gen Q3 was rated 41st out of 75 cars, with praise for its build quality and ease of use, although it wasn't commended for practicality or low running costs. Based on owner feedback, reliability is one of the Audi Q3 Mk1's strong suits, too.
Reliability
In our Driver Power survey, Audi Q3 Mk1 owners have had very good things to say about their car's reliability. The car was ranked 41st out of 75 vehicles in its last appearance in the survey in 2018, which is impressive considering the Q3 Mk1 had been on sale for seven years by that point, and 91% of owners said they hadn't experienced any issues with their Q3s.
How practical is it?
The Audi Q3 Mk1 isn't the roomiest SUV of its size that you'll find, but it is still fairly spacious so makes a compelling choice if you're after a premium SUV. Interior quality and overall fit-and-finish are also good, so the cabin should be able to withstand the toils of family life. Equipment levels and safety features are pretty decent, too, though do bear in mind a lot of desirable features were only available on the Audi Q3 Mk1 when new as optional extras.
Dimensions, cabin and boot space
The Audi Q3 Mk1 takes up a similar amount of space on the road as its main rivals. At 4,385mm long, the Audi is 30mm longer than a Range Rover Evoque but 30mm shorter than a Mercedes GLA, and the Q3's 1,831mm width makes it slightly wider than those two.
On the inside, the Audi Q3 Mk1 fares pretty well. The cabin is quite roomy, and there is good headroom in the front and rear rows, although the large tunnel that runs down the middle of the car does mean rear seat legroom's a bit tight. Interior practicality is impressive, too, with highlights being the wide door bins and large cupholders.
Unfortunately, the Audi Q3 Mk1's boot capacity of 460 litres isn't as much as some rivals', such as the second-generation BMW X1 (505 litres). That said, the boot is still a decent size, and the boxy dimensions help improve practicality. Folding down the rear seats increases that load area to 1,365 litres, but sliding larger and bulkier items in and out is made a bit awkward by the fact the rear seats don't fold down completely flat.
Equipment and technology
In general, equipment levels are pretty decent on the Audi Q3 Mk1. The entry-level SE trim (which was renamed the Sport spec on later cars) came as standard with 17-inch alloy wheels, dual-zone climate control, automatic windscreen wipers and rear parking sensors, and the spec list expanded to include a DAB digital radio and electric lumbar adjustment on the front seats on facelifted models.
An S-Line trim level was also available on the Audi Q3 Mk1, which primarily gave the car a bit more of a sporting look thanks to the subtly redesigned bodywork. The interior featured more heavily bolstered front seats, too. Examples of non-cosmetic upgrades included bright Xenon headlights, and facelifted versions came as standard with a powered tailgate. A slightly plusher S-Line Plus trim that joined the range in July 2012 included all the previously mentioned kit, on top of standard-fit cruise control and automatic headlights.
From October 2017 onwards, a Black Edition version of the Audi Q3 Mk1 was also available. Ostensibly, it was heavily based on the S-Line trim level, with most of the changes being cosmetic tweaks such as the black front grille surround, the gloss black door mirror shrouds and the black part-leather seats. Black Edition cars also came as standard with a Bose sound system and the firmer sports suspension setup that was available as a no-cost optional extra on the S-Line trim.
Like many other premium alternatives, the Audi Q3 Mk1 was available from new with a slew of additional equipment. Heated front seats, built-in navigation, a reversing camera and lane-keep assist were all features that could only be specified by ticking a load of boxes on the options list.
Safety
When the Audi Q3 was crash tested by Euro NCAP in 2011, it was awarded a very high rating. As well as scoring the full five stars in its overall rating, the Q3 Mk1 also performed highly in the adult passenger protection (94%), child passenger protection (85%) and safety tech (86%) categories. However, pedestrian protection wasn't that impressive, with its score in this category being just 52%.
Safety equipment was fairly decent across the board, because all cars came with six airbags, stability control and ISOFIX child seat mounting points on the two outer rear seats. However, a lot of the more advanced safety technology that was available, such as blind spot monitoring, lane-keep assist, hill-descent control and rear curtain airbags, was only offered as a cost option.
What's it like to drive?
The Audi Q3 Mk1 did start feeling its age towards the end of its lifecycle when it was up against newer rivals, but remained a pleasant car to drive. A nicely judged ride and good refinement levels made it comfortable and easy to drive, and the strong grip levels helped make the Audi decent fun to steer, too. Performance will vary depending on the engine under the bonnet, but all of them are peppy enough for day-to-day driving needs.
Engines and performance
From launch, the Audi Q3 Mk1 was available with three 2.0-litre engines, consisting of two petrols and one diesel. The petrols came in 138bhp and 208bhp flavours, whereas diesel buyers were initially limited to a 175bhp powerplant. Later down the line, a 2.0-litre diesel with 138bhp and a 1.4-litre petrol with 148bhp were available, and a 335bhp 2.5-litre petrol engine was also introduced for the high-performance RS Q3 model.
Additional changes were brought about in the mid-life facelift. The 208bhp petrol was pulled from the range and replaced with a less potent but still punchy 184bhp 2.0-litre engine, and the power of the diesels was upped to 148bhp and 181bhp.
The diesels aren't quite as refined as the petrols, especially when at idle and under hard acceleration, though all of the Audi Q3 Mk1's engines are smooth at cruising speeds. This is also irrespective of whether the Q3 has a six-speed manual or an automatic (six-speeds on 1.4-litre cars; seven-speeds on 2.0-litre models), as both gearbox options work excellently on the Audi.
Performance will vary, depending on the engine under the bonnet (0-62mph acceleration times range from 9.9 seconds for the 138bhp 2.0-litre diesel, to 6.9 seconds for the 208bhp 2.0-litre petrol), and all of the engines offer enough punch for general driving and on motorways. If you crave lots of speed from your Audi Q3 Mk1, Audi did make a sporty RS Q3 version with a 335bhp 2.5-litre petrol engine (or 365bhp on the 'performance' version) and a very quick 0-62mph time of 4.4 seconds.
On the road
One of the strings in the Audi Q3 Mk1's bow is that, on the road, it's a nicely judged all-rounder. Comfort and refinement levels are good, especially on the motorway, and the well-weighted controls help make the Audi relaxing and easy to drive.
The Q3 Mk1 takes up roughly the same space on the road as the Audi A3 hatchback, so driving the car around town isn't tricky. It helps, too, that overall visibility is excellent, and is aided further by the raised ride height over conventional family cars, which helps give the driver a slightly better view of the road ahead.
While the Audi Q3 Mk1 covers a lot of bases, though, it doesn't set the class standard in many areas. For instance, while it's decent to drive. It isn't as much fun to steer as a BMW X1. Likewise, when it comes to comfort and refinement, the Audi isn't quite as accomplished in this area as a Mercedes GLA or a Volvo XC40.
When new, the Audi Q3 Mk1 was available with six-speed manual and one of two automatic gearboxes (six-speeds on 1.4-litre models; seven-speeds on 2.0-litre engines). Both are excellent, though do bear in mind the automatics aren't as efficient as their like-for-like manual counterparts. Likewise, all-wheel drive models are a little less frugal than front-wheel drive Audi Q3s – plus, because there isn't a huge amount of ground clearance, they aren't amazing off-road, either.
What should you look out for?
The Audi Q3 Mk1 has had a pretty solid reliability record, and has consistently performed well in our Driver Power owner satisfaction surveys. The engine used in diesel-powered Audi Q3s was caught up in the infamous dieselgate crisis, though, so there's no harm in finding out whether the car was affected by it before you commit to a purchase.
Common used make model problems
Front end
Vibrations from the front wheels can crop up. Fixes can include replacing components like tyres, wheels, propshafts and brake discs.
Filler cap
The fuel filler release can seize, which can be cured by extra lubrication. There are also tools and a red plastic pull release near the jack if needed.
Demisting
On some models, it can take quite a while to demist the windscreen, irrespective of the heater settings.
Headlamps
Cars with Xenon headlamps may suffer from flickering lights. This can be fixed with a software patch, or may need a connector to be replaced.
Recalls
To date, the Audi Q3 Mk1 has been recalled three times. The first recall was issued in July 2017, to rectify a fault that stopped the brake lights from working when the electric parking brake was engaged, and a recall was launched in February 2018 in order to fix a faulty front passenger airbag system. At the time of writing, the most recent recall was from August 2019 for improperly-functioning front indicators.
Some diesel-powered Audi Q3s were also affected by the so-called 'dieselgate' emissions scandal. Contact Audi to find out if the car you're looking at was affected, if it needed any remedial work and if that was carried out.