Used Mazda CX-5 (Mk1, 2012-2017) review
Smartly styled, great to drive and with affordable running costs, the Mazda CX-5 is an extremely desirable family-friendly SUV
Verdict 
Mazda was a little late to the compact SUV class, but the CX-5 was well worth the wait. By channelling the spirit of the firm's famous MX-5 roadster, the high-riding off-roader is brilliant fun to drive thanks to its precise and agile handling. Yet it's also spacious and comfortable enough to serve as hassle-free family transport. All models are also very well equipped, even the entry-level versions.
Powered by a range of the firm's smooth and responsive Skyactiv petrol and diesel engines, the CX-5 is a surprisingly efficient choice, while Mazda's excellent reputation for reliability adds welcome peace of mind. Refinement is excellent, plus there's the option of four-wheel drive for those that live in rugged locations or need a capable tow car.
Handsome, well-built and great to drive, the practical CX-5 is a great family car.
Which one should I buy?
Best Mazda CX-5 for families: 2.2 D SE-L Lux Nav
Best Mazda CX-5 for low costs: 2.2 D SE-L
Best Mazda CX-5 for towing: 2.2 D 175 AWD Sport Nav 
The CX-5 reached showrooms in spring 2012 with 2.0-litre petrol or 2.2-litre diesel engines, the latter in 148bhp or 173bhp guises. It was the first car to feature Mazda's SkyActiv technology, comprising lightweight construction along with more efficient engines and transmissions to cut fuel consumption and CO2 emissions.
Initially there were SE-L and Sport trim levels, but an SE-L Lux arrived in October 2013 as a new mid-range option aimed at fleets. It featured a sunroof and leather trim as standard.
Suspension revisions in spring 2014 improved the ride comfort and refinement, before a facelifted CX-5 in 2015 brought extra kit, upgraded interior trim, optional LED headlamps and a seven-inch display on the dashboard in place of the previous 5.8-inch unit.
If you want four-wheel drive or an automatic gearbox, you'll have to buy a diesel CX-5 because the 2.0-litre petrol comes in two-wheel-drive manual form only. The high-powered diesel is available only with 4WD, but the 2.2D 150 can be front or four-wheel drive.
The SE-L trim level comes with 17-inch alloys and parking sensors front and rear. Plus, there's dual-zone climate control, a 5.8-inch touchscreen display, Bluetooth, city braking, cruise control and automatic wipers. The Sport gets bigger, 19-inch rims, bi-xenon headlights, leather trim, an electrically adjustable driver's seat, a reversing camera and a nine-speaker Bose stereo. Both are also available in Nav spec, with an integrated sat-nav.
An all-new CX-5 arrived in 2017 offering even more space, sharper looks and an interior that matched premium rivals for quality and luxury.
What are the alternatives?
For value, driving pleasure and choice, the Mk2 Ford Kuga is hard to beat, and it's pretty reliable. We also love the Skoda Yeti for its practicality, dependability and build quality, while the Mk3 Kia Sportage and Hyundai ix35 offer reliability, value and good warranties.
The Mk4 Toyota RAV4 is another capable alternative, as is Honda's fourth-generation CR-V. Both offer efficient engines and reliability, but they're not as good to drive as the CX-5.
If you don't need the space and are attracted by the lure of a premium badge, then the first generation BMW X1 is good to drive and efficient, while the Audi Q3 offers a more SUV-like driving position and most examples come with the added bonus of quattro four-wheel drive as standard.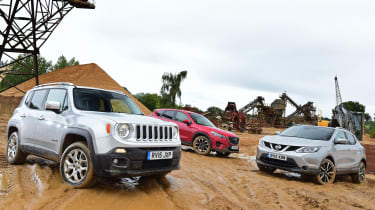 Mazda CX-5 vs Nissan Qashqai vs Jeep Renegade
The CX-5 emerged as a comfortable winner when we tested a trio of four-wheel SUVs in October 2015. It wasn't as capable off-road as the Jeep or quite as cleverly packaged as the Qashqai, but the Mazda's blend of on-road poise and performance, plus its comfort and space helped it take a well-deserved victory. Read the full test here...
Mazda CX-5 vs Subaru Forester
In June 2016 it was the return of the new Forester to try its luck against the CX-5. While we liked the Subaru's ruggedness and off-road agility, it couldn't hold a candle to the handsome Mazda for style, handling precision, efficiency and standard kit. Read the full test here...
Mazda CX-5 vs Ford Edge
The Mazda's winning streak came to an end when it met the Ford Edge in August 2016. While the CX-5 had keener handling, better performance and a smaller thirst for fuel, the big Blue Oval machine was far roomier, more comfortable and offered even greater refinement, plus its SYNC3 infotainment was leagues ahead of its Japanese rival's set-up. Read the full test here...
How much will a used Mazda CX-5 cost?
When new, the Mazda CX-5 was competitively priced against mainstream rivals, many of which couldn't match its generous standard kit count. Strong resale values mean it'll cost a little more to buy used, but this is offset by stronger values when it's time to sell, decent fuel economy and keen maintenance costs.
Prices 
Impressive residuals of more than 40 per cent when new mean that the CX-5 will cost you a little more to buy than a similar-era Ford Kuga or Nissan Qashqai. Early petrol cars represent the lowest cost entry to ownership, while late Sport Lux diesel models are extremely sought after for their power, efficiency and lavish standard specification.
Partnership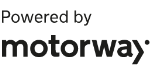 Need to sell your car?
Find your best offer from over 5,000+ dealers. It's that easy.
Mazda's rigid trim level hierarchy (factory options were almost non-existent) means that the only real choice between similarly specified cars will be exterior colour. And while the CX-5 is one of the brand's most successful models, it sold in relatively small numbers compared to contemporary rivals, which means there's less choice in the classifieds.
Either way, you can check on the latest used prices for the Mazda at our sister site Buyacar, or use its valuation tool to research a specific model.
Fuel economy and emissions
The whole point of Mazda's SkyActiv programme was to make its cars as light and as strong as possible, and its engines as frugal as they could be, all in the pursuit of lower emissions and improved economy, as well as decent driving manners.
Early examples of the CX-5 struggled to meet their official efficiency figures, but over time Mazda kept improving the engines – especially the diesels – with the result that efficiency improved markedly on post-2015 cars.
Although the official figure of 61mpg for the front-wheel-drive 148bhp 2.2-litre diesel was a little unrealistic for everyday use, drivers can expect 50mpg as a reasonable target. That's much better than the early CX-5s, which barely managed 40mpg in the real world, leaving them trailing most of the contemporary competition.
Of course, you still need to drive the crossover gently to achieve these figures – and it can be difficult to resist taking advantage of the 148bhp diesel's punchy nature, thanks to its 380Nm torque output. Do that and you'll notice the fuel gauge plummeting. That's even more the case for the higher-spec diesel, with its 173bhp power and 420Nm torque figures; its official economy figure is 54.3mpg.
While the 2.0-litre petrol engine is often unfairly ignored in favour of the diesels, it's a fine choice if you're covering lower miles. Yet while it's fairly frugal at a gentle cruise, the engine is thirsty when you use more of its power.
Running costs 
All CX-5s need to be serviced every 12 months or 12,000 miles. There's no difference in costs between petrol and diesel models, with maintenance costing £195, £270, £275, £275 and £185 before the cycle starts again. Both the 2.0-litre petrol and 2.2-litre diesel engines are fitted with timing chains designed to last the lifetime of the engine, so there are no cambelts to replace.
The brake fluid needs to be changed every two years at a cost of £72, while the coolant should be renewed after 10 years or 125,000 miles, then every five years or 62,500 miles. Expect to pay £83.40 for this work.
The Mazda CX-5 is likely to be slightly more expensive to insure than similar-aged rivals such as the Nissan Qashqai or Skoda Yeti, because it has higher insurance group ratings. This is perhaps a reflection of the car's status as a more sporty crossover.
Kicking off the CX-5 line-up is the 2.0-litre petrol model, in insurance group 15, while the most expensive model to insure is the 173bhp 2.2-litre diesel in Sport Nav spec, in group 21. 
Mazda offered the CX-5 with a three-year and 60,000-mile warranty when new, but with the youngest cars now around five years old you'll have to resort to aftermarket cover.
What do owners think?
On the whole, Mazda build quality is on a par with that of more expensive premium brands, and the CX-5 in particular has a robust feel. Problems aren't unknown but overall the SUV should be a dependable choice – something that's reflected in the brand's excellent fourth-place finish in our 2021 Driver Power satisfaction survey.
Reliability
After making its debut in fifth place in Driver Power 2013, the CX-5 slipped to 13th in 2014, then to 64th in 2015. Yet it rose to 49th in its most recent appearance in the 2016 poll, with owners praising performance, practicality, handling, ease of driving and ride quality. The lowest scores are for running costs and in-car tech.
How practical is it?
There's reasonable room in the front and back seats, as well as the boot, but the SUV bodystyle leaves you expecting it to be a little bigger on the inside than it is. Many similar-era rivals offer more space and greater storage, but for the majority of owners the Mazda will offer enough of both to keep them happy.
Dimensions, cabin and boot space
At 4.5 metres long, the Mazda CX-5 sits somewhere between the SUV and crossover classes. It's larger and more substantial than the Nissan Qashqai and Skoda Yeti, and about the same size as contemporaries such as the second-generation Ford Kuga and Hyundai Tucson.
Mazda treats its front and rear passengers to more or less equal legroom in the CX-5, which means it has the measure of most of its rivals in the crossover class. It's spacious enough for a growing family and even adults can travel comfortably in the back. There's a little less space in every direction than in a similarly aged Honda CR-V, but it's a more spacious option than the more compact Nissan Qashqai and Skoda Yeti.
At least the boot is a decent size: a capacity of 503 litres with the seats in place gives the Mazda CX-5 a significant advantage over the Ford Kuga and Nissan Qashqai. It's well beaten by the 589-litre load space in the Honda CR-V, though, although that car can't match the Mazda for value, driver appeal and performance.
The seats in the CX-5 are easy to tumble forwards simply by pulling a handle in the boot – this folding mechanism is called Kakakuri and was pioneered on the 2001 Mazda 6 saloon. However, even when the seats are down the load floor isn't completely flat.
Equipment and technology
Early examples of the CX-5 featured a small and fiddly 5.8-inch touchscreen infotainment system, but the seven-inch unit introduced as part of the 2015 facelift is far better and simpler to use. The rotary controller between the seats and steering wheel buttons have taken obvious inspiration from BMW's iDrive system in that regard.
The new set-up came with satellite navigation as standard on all models, plus Facebook and Twitter integration, internet radio streaming and DAB. You could even set it up to read out and respond to text messages on your mobile phone.
All versions of the Mazda are well-equipped, with the early cars available in SE-L, SE-L Lux and Sport guises. The former features dual-zone climate control, Bluetooth connectivity and parking sensors, while the flagship trim levels have luxuries such as leather trim, heated seats, xenon headlamps and larger alloy wheels.
A 2015 update brought more small tweaks than wholesale changes, but there were useful improvements to items such as the enhanced infotainment system, a boost in the quality of the interior materials and extra features such as powerful LED headlights. Buyers have a simple choice of three engines and three specs – SE-L Nav, SE-L Lux Nav and Sport Nav – and all three came with a generous level of equipment as standard including, as the name suggests, sat-nav.
Safety
The CX-5 was awarded a five-star crash test rating by Euro NCAP, which included an impressive score of 94 percent for adult occupant protection. However, bear in mind that this result was recorded in 2012 when the test was less stringent than today. On the plus side, Mazda was one of the pioneers of fitting camera and radar-based braking systems, which make the car respond automatically when they detect cars or pedestrians. All CX-5s came as standard with this kit, which can apply the brakes at speeds of up to 20mph if it detects an imminent collision.
Optional safety equipment included lane departure warning, blind spot monitoring, rear parking sensors that warn of passing traffic when you're reversing out of a space, while from 2015 adaptive anti-dazzle LED headlights were available. 
What's it like to drive?
While it's main role is as a family-friendly SUV, it's clear that Mazda tried to place the driver at the centre of the action with the CX-5. Few contemporary rivals are as satisfying to drive as this neat and precise machine, which has the spirit of the firm's MX-5 sewn into its DNA. Yet it's also comfortable and refined, with a cushioned ride and smooth engines.
Engines and performance 
Mazda offered only three engine options: one petrol and two diesels. Happily, the best engine in the CX-5 is also the greenest. The 148bhp 2.2-litre SkyActiv-D diesel is smooth, quiet and (thanks to its low-friction and low-compression-ratio design) generally economical.
We say generally because it's an easy engine to push beyond its impressively efficient comfort zone, but this model will take you farther between filling station stops than the 173bhp 2.2-litre diesel or the 163bhp 2.0-litre petrol.
That means there's not much to be gained from upgrading to the more powerful diesel engine. It's only fractionally quicker from 0-62mph, yet is significantly thirstier than the 148bhp 2.2-litre SkyActiv-D.
Don't discount the 2.0-litre SkyActiv-G petrol. While it will certainly get through more fuel than the diesels, prices are lower and it's more efficient than similarly powered rivals of the time. You'd have to cover quite a few miles in the diesels to cancel out that price difference with filling station stops. 
Plus, the petrol engine revs sweetly and silently, even compared to the impressively smooth diesels. Certainly anyone who does most of their driving around town should consider it carefully, because this kind of use won't be getting the SkyActiv-D engines up to the kind of temperature to perform at their best. That said, the petrol model lacks the mid-range muscle you'd expect of an SUV, which means you have to work the engine hard to keep up with the flow of traffic. That means fuel efficiency will suffer.
On the road 
Mazda attempted to model the CX-5's driving dynamics on those of its evergreen MX-5 roadster, and while a high-riding SUV can't really match a two-seater sports car for driving fun, there's more shared DNA than you'd think. In fact, the CX-5 was one of the most involving choices in its class when new.
The steering is fluid, accurate and full of feedback, while the suspension manages to soak up bumps without the trade-off of body roll in corners. The best test of this crossover's abilities is to drive one on an unfamiliar back road in bad weather – the sheer balance and poise on offer ensures the CX-5 inspires confidence behind the wheel like no rival. If you go for the six-speed manual gearbox you'll benefit from slick and precise shift action that's reminiscent of the MX-5's.
Four-wheel-drive versions deliver the extra security of all-weather traction and make excellent tow cars. However, the CX-5 is only really suitable for light off-roading because its all-wheel-drive transmission relies purely on the traction control to find grip – unlike similar-age rivals such as the Jeep Renegade, there are no switchable driver modes for rugged terrain. 
What should you look out for?
On the whole the Mazda is a robust and reliable choice, with very few issues. However, over the years various issues have been identified, so it's worth keeping an eye out when viewing any potential purchases.
Common Mazda CX-5 Mk1 problems
Bluetooth
The Mazda's Bluetooth set-up can be a little temperamental, either refusing to pair with a smartphone or sometimes not allowing you to make calls once paired.
Engine
Mazda's diesel engine can suffer from the oil being diluted with fuel because of particulate filter regeneration issues. This pushes up maintenance costs.
Tyre noise
Some owners have found their CX-5s generate a disappointing amount of road noise. The tyres and road surface make all the difference.
Sat-nav
If you buy a car without sat-nav, you should simply be able to buy an SD card and insert it into the slot to get nav. But post-2015 facelift cars come with their own cards. 
Recalls
Mazda builds some of the most reliable cars around, but even so the CX-5 has been subject to five recalls. In May 2017 the firm called back cars due to the risk of the tailgate struts giving way, causing the boot lid to close without warning. 
Then, in September 2018, there was a recall for three potential problems: loose fuel injector bolts, software updates for the ECU and premature wear of the vacuum pump for the brakes.
Finally, in July 2019, a notice was issued regarding the possible build-up of soot in the induction system on diesel models.