Audi plots diesel hybrid supercar
Audi is considering a diesel-electric hypercar, using technology from its Le Mans racer, to sit above the R8 in the range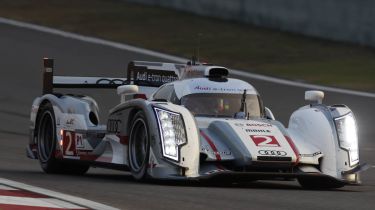 Audi is considering producing a diesel-hybrid hypercar to sit above the R8 in the line-up, Auto Express has learned. It will compete with the Porsche 918 Spyder, McLaren P1 and Ferrari Enzo replacement at the very top of the supercar segment, and will provide a direct transfer of technology from the 2012 Audi R18 e-tron Le Mans-winning race car.
"There is definitely room for a super sports car above the R8," Audi's new boss of technical development, Wolfgang Durheimer told us. "If we made this a diesel hybrid it could be a hot-seller. What always sells is performance - if it is quick, has low consumption and looks cool, I'm sure it would be a success."
You don't have to look far to realise where Durheimer - who also heads up the strategic motorsport plan for the entire VW Group - took his inspiration for this radical new halo model. "This year I watched Audi win Le Mans for the 11th time, and asked myself how do we leverage this diesel-hybrid technology to the road," he revealed. "This would deliver that transfer from track to road that I'm always looking for."
It's an idea that's still firmly in the theoretical stage at this time, but things could move fast. "With this new job I have much deeper pockets for R&D, in fact I have more ideas than time or engineers to implement them. Later this week I have a planning meeting where we will set out our top three development projects in terms of priority," Durheimer explained.
Details on the powertrain are yet to be finalised, but expect a combined power output in the region of 700bhp and at least 1,000Nm of torque to compete with rivals. That would mean 0-62mph in around 3.0 seconds and a top speed of more than 200mph.
There are a number of chassis options available to Audi. A new MSB platform is currently being developed for all mid and rear-engined models in the VW Group – including the next generation R8, Lamborghini Gallardo and Porsche 911. Like the smaller MQB platform this will be highly flexible in terms of the size of the chassis and the materials it's constructed from.
Alternatively Lamborghini with the Aventador, and Porsche with the 918 Spyder, have proved that building a carbon-fibre tub specific to your needs can be done and is cost-effective at this highly-expensive end of the market.
No time scale has been laid out yet, but with the new R8 not schedule to arrive until 2015, don't expect this range-topper to hit the road until 2017 at the earliest.