Audi RS5 and Ducati at Pikes Peak
German carmaker follows up Audi RS5 teaser image by teaming up with Ducati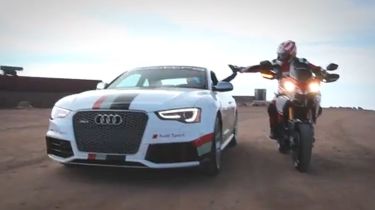 Last week, a teaser image of what appeared to be an S1 Quattro-inspired Audi RS5 was released, just in time for the 25th anniversary of its record-breaking run at Pikes Peak. Audi has since revealed the special-edition RS5 in full, at the legendary hill climb in Colorado.
The special RS5 Coupe appeared alongside a Ducati Multistrada 1200 S – following the tie-up between Audi and the Italian superbike maker earlier this year.
The video shows the two charging up the hill, which covers 12.42 miles and a climb of over 14,000ft. The Quattro livery appears to be the only modifications, to an otherwise standard RS5.
It marks 25 years since Walter Rorhl took a stripped out Audi Sport Quattro S1 up the hill, smashing his previous record by more than 20 seconds.