Bentley Azure convertible and Brooklands coupe to return
Two new models for the Bentley range are in the works, a new Azure convertible and a coupe Brooklands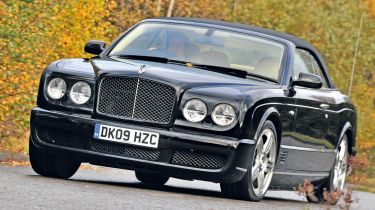 Bentley is planning to bring back the Azure convertible and Brooklands coupe, according to the company's CEO Wolfgang Durheimer. There are plans for more Continental variants and a range of hybrids, too.
Durheimer said: "I'm truly convinced that we have a lot of opportunities with our existing model lines. In Crewe you used to see a very nice convertible called Azure – we also had it [a Mulsanne Convertible concept] as a hidden car in Pebble Beach in 2011. I hear from our customers that there is remarkable demand for a car like this, and if we do the Azure, the Brooklands just comes automatically."
The original Bentley Azure was introduced in 1995, based on the flagship Continental R, before it was replaced in 2006 by a new model using the Arnage platform in 2006.
As part of this second-generation model, Bentley also introduced a Brooklands Coupe using the same platform. This kind of three-bodystyle range for the current Mulsanne is clearly what Durheimer has in mind over the coming years. We also know that a performance-oriented Mulsanne Speed is due to be unveiled at the Paris Motor Show in October. Durheimer also suggested that a six-cylinder Mulsanne could be on the cards for China, saying: "nearly 100% of Mulsanne buyers in China have drivers."
Durheimer has plans for the Continental line-up, too, but wouldn't be drawn on exactly what they were. "We have spotted some new ideas for derivatives on the Continental line," he said.
Bentley is also keen to reduce emissions, confirming that a diesel-powered version of its forthcoming SUV would be important for Europe. Durheimer also said: "We want a plug-in hybrid in 90% of the range before the end of the decade."