Best breakdown services: 10-6
There are a few big names in the mid-field, including the AA and Green Flag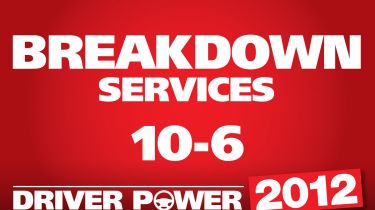 10. More Than 
Overall rating: 80.82%Time to arrive: 71.4% arrived within the hourResult of call-out: 35.7% permanently fixed at the roadside
A positive step forward. More Than has lingered at 14th in our survey for the past couple of years, but it's climbed four places in 2012, slipping past a number of key rivals. There have been moderate improvements across the board – you ranked its staff as worst for friendliness and helpfulness in 2011, but 11th this year, while overall service has improved from 12th to 10th. Most impressively, the brand picked up an excellent bronze for speed of recovery. If only its technicians were better at fixing faults.
9. Green Flag 
Overall rating: 81.02%Time to arrive: 57.9% arrived within the hourResult of call-out: 33.5% permanently fixed at the roadside
No change for Green Flag, which gets a series of average scores to hold on to the number nine spot. Value impressed customers most, but even here the company was only mid-table. Green Flag is the UK's third biggest breakdown operator after the AA and RAC, but you tell us its service can't match larger rivals'. Plus, it's undercut by smaller brands like AutoAid and Autonational Rescue. So Green Flag must try harder over the next 12 months if it wants to rise up the Driver Power chart.
8. Autonational Rescue 
Overall rating: 82.60%Time to arrive: 59.6% arrived within the hourResult of call-out: 37.0% towed to a location of choice
It's quick if you need it and offers great value for money, but Autonational Rescue is still down in 2012. Customer service is the problem: staff aren't as friendly, helpful or well presented as rivals', while competitors have proven better at resolving faults. Autonational Rescue's score for overall service has slipped from third to eighth since 2011, which shows that customers expect better. But if it can add to its core strengths of speedy service and value, the company could easily get back into the top five in 2013.
7. Rescue My Car 
Overall rating: 82.96%Time to arrive: 57.9% arrived within the hourResult of call-out: 36.8% permanently fixed at the roadside
Disappointingly, Rescue My Car falls four places. The online company uses a network of local operators rather than its own, and tailors quotes to each customer. But while you appreciate the great value this approach offers, you're less impressed with other aspects of the service. Operators are too slow to the scene of a breakdown and aren't the best at getting issues fixed, either. In last year's Driver Power, you awarded the company a bronze medal; in 2012 it's been left trailing by the competition.
6. AA 
Overall rating: 83.42%Time to arrive: 56.6% arrived within the hourResult of call-out: 39.6% permanently fixed at the roadside
The UK's largest breakdown company is climbing up our rankings – and it's easy to see what you like. The staff are friendly and helpful, the service is quick, problems get fixed and general presentation is first class. As with arch-rival the RAC, the AA's Achilles' heel is value – you think the service is too expensive. You've made it clear that the company needs to address this if it wants to move up the Driver Power chart again next year.