Best breakdown services: 15-11
These are the breakdown providers you ranked lowest in our Driver Power survey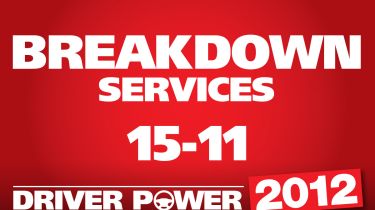 15th. Churchill
Overall rating: 75.54%Time to arrive: 80.0% arrived within the hourResult of call-out: 36.4% permanently fixed the problem at the roadside
Another year at the bottom of the table for Churchill. It will have hoped to improve on its seven-place fall in 2011, but customers have confirmed that they're still not happy with the level of service on offer. You ranked Churchill poorly in every category, and scored it worst of all breakdown operators for overall service and value for money. The highest position it managed was for speed of recovery, and that was still a lowly 11th. The company's roadside assistance is provided by Green Flag, but once again, customers clearly feel they get a better deal by going direct.
14. Tesco
Overall rating: 75.36%Time to arrive: 50.0% arrived within the hourResult of call-out: 32.1% permanently fixed at the roadside
The supermarket giant is an expert in food retailing, but you're not impressed with its breakdown cover. Tesco falls one place to 14th, with the worst scores for the friendliness and helpfulness of staff and their general presentation. You were disappointed with the speed of recovery and overall service, too. These low scores are surprising as its roadside repairs are provided by the RAC – customers clearly prefer dealing direct with the breakdown specialist, which finishes much further up our chart.
13. National Breakdown
Overall rating: 75.42%Time to arrive: 53.6% arrived within the hourResult of call-out: 37.9% permanently fixed at the roadside
Last year, National Breakdown was our most improved operator, moving up five places from 15th to 10th. But it's been unable to improve – or even maintain – that performance. Instead, it slides three positions to 13th, with consistently poor scores in every category. Its overall service rating dropped from a respectable eighth in 2011 to 13th this year: it looks as though last year's meteoric rise may have been a blip, not a turnaround.
12. Direct Line
Overall rating: 76.00%Time to arrive: 60.0% arrived within the hourResult of call-out: 29.1% towed to location of choice
It's three years in a row at 12th place for Direct Line as it clings stubbornly to the lower reaches of our rankings. There have been improvements – last year you rated it worst for value, while this year it hits 13th. But you've also ranked it worst for its ability to fix problems. Direct Line works with Green Flag, but customers of the latter feel they get a better deal. A big effort will be required to escape this rut and move up the rankings.
11. Mondial Assistance
Overall rating: 78.61%Time to arrive: 45.5% arrived within the hourResult of call-out: 31.3% permanently fixed at the roadside
Mondial Assistance finished fifth in Driver Power 2010. Two years later, it's dropped out of the top 10. So what's going on? The company provides services exclusively to corporate and fleet customers – and levels clearly fall short of what's expected. It's picked up below-average marks in every category, but none worse than speed of recovery. You ranked it worst in our chart in this area. And it doesn't help that you're also not impressed with staff friendliness and presentation, or value for money.