Best used hot hatch
A look at a handful of the best used hot hatchbacks we found up for sale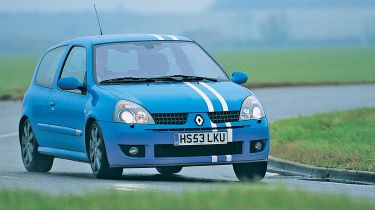 Renault Clio RS 182
Every hot hatch generation has its champion – first came the Volkswagen Golf GTI, then the Peugeot 205 GTi and, soon after, the Renault Clio Williams. Rising insurance premiums killed off the humble hot hatch for a while, but the genre came back with a bang with this Renaultsport Clio 172.
Now you can pick up tidy versions of the later and more powerful 182 model for less than £3,000, so it has to go down as a performance bargain. A responsive chassis and entertaining handling ensure it's an absolute riot to drive.
Honda Civic Type R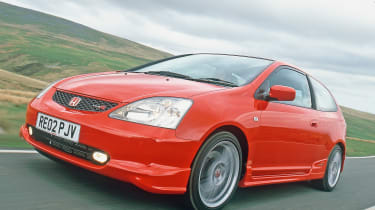 Price new: £16,000Model: Civic Type REngine: 2.0-litre 4cyl, 197bhpCO2/road tax: 212g/km/£285Economy: 31.4mpg
Price Now: £2,995 (2002/02-reg, 75k)
With a new Type R turbo waiting in the wings, set to cost around £30,000, Honda is ready to restate its claim on hot hatch class honours. However, if your budget doesn't stretch that far, the maker's pocket-rocket back catalogue is equally exciting.
This is particularly true of the second-generation hot Civic, which boasts a sophisticated rear suspension set-up that produces some playful handling traits plus a 197bhp VTEC engine that revs to a heady 8,250rpm. Reliability should be typically bulletproof, while build quality is solid. The only letdown is the low-rent cabin.
VW Golf GTI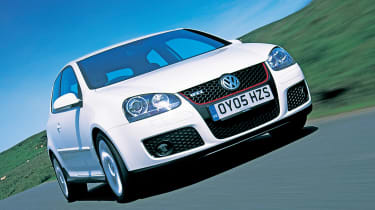 Price new: £19,995Model: Golf GTIEngine: 2.0-litre 4cyl, 197bhpCO2/road tax: 192g/km/£265Economy: 35.3mpg
Price Now: £4,950 (2005/05-reg, 85k)
After a stodgy period in the nineties, VW's original hot hatch returned to form with the fifth-generation Golf GTI. Performance has to be at the heart of any pocket rocket, so with the GTI's 2.0-litre petrol turbo sending 197bhp to the front wheels, the sprint from 0-60mph takes a rapid 6.9 seconds.
Add to that the option of five-door practicality, Volkswagen's impeccable image and build quality, solid dealer service and acceptable running costs – not to mention a split personality that sees the GTI equally at home on the race track as it is in the local golf club car park – and you have the recipe for a superb all-rounder.
With a maximum budget of £5,000 you'll be looking at high-mileage examples, but this proves that you don't have to break the bank to buy something that's thrilling to drive, can carry front and rear passengers in comfort and accommodates plenty of luggage. Many owners will have cared for their cars well, too, so it promises to be durable.
SEAT Leon FR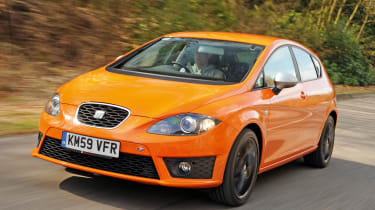 Price new: £19,725Model: 2.0 TSI FREngine: 2.0-litre 4cyl, 208bhpCO2/road tax: 170g/km/£205Economy: 38.7mpg
Price Now: £8,995 (2010/59-reg, 67k)
Today's SEAT Leon is a very different car to its predecessor, much more focused on quality, refinement and technology. But the old Leon was more involving to drive, plus arguably more distinctive to look at, with a uniquely sporty design that became synonymous with British Touring Car Championship wins at the end of the last decade.
It serves up an engaging driving experience, but the price is an overly firm ride, while the quality of the interior plastics leaves a lot to be desired. Still, there's plenty of car in a £9,000 Leon 2.0-litre TSI – and no shortage of pace, too.
Subaru Impreza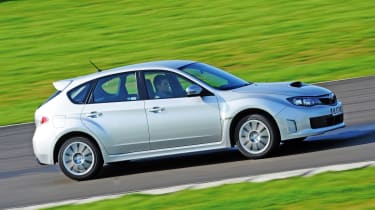 Price new: £27,590Model: WRX STiEngine: 2.5-litre 4cyl, 295bhpCO2/road tax: 243g/km/£485Economy: 27.4mpg
Partnership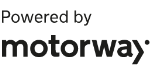 Need to sell your car?
Find your best offer from over 5,000+ dealers. It's that easy.
Price Now: £9,995 (2008/08-reg, 66k)
There are lots of issues to address before a 2006 Impreza WRX STi makes sense: can you live with the jarring ride quality and astronomical thirst for fuel? Do the traditional hatchback shape and lack of a huge rear spoiler offend you? Do you like hard interior plastics? Deal with all that, and there's immense fun to be had behind the wheel of this unbelievably grippy and rapid hatch – all for less than five figures.
More importantly, performance is accessible whatever the weather. News of failing pistons blighted this version, although Subaru says well cared for cars shouldn't be problematic.
Renaultsport Megane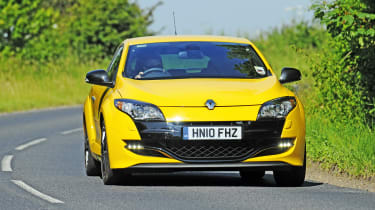 Price new: £27,390Model: Renaultsport Megane 250Engine: 2.0-litre 4cyl, 247bhpCO2/road tax: 195g/km/£265Economy: 33.6mpg
Price Now: £11,995 (2011/11-reg, 38k)
One of the best-handling hot hatches ever, the Renaultsport Mégane 250 makes every journey an event to savour. Yet while it may be a family hatch by name, this is not a car for those who value their children's comfort first and foremost – the ride on Cup models is firm, while all versions have a noisy engine and the three-door-only layout results in a cramped rear compartment.
The turbocharged engine produces 340Nm of torque in the mid-range, so this hot hatch feels scorchingly quick, and is a head-turner, too. Look for a car with low miles, a full service history and no evidence of thrashing.
Volkswagen Golf R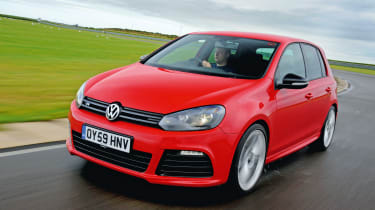 Price new: £30,345Model: Golf REngine: 2.0-litre 4cyl turbo, 267bhpCO2/road tax: 199g/km/£265Economy: 33.2mpg
Price Now: £15,800 (2010/10-reg, 39k)
The ultra hot hatch is a recent phenomenon that has manufacturers cramming more power and technology into their regular, everyday family cars. The VW Golf R arguably started that craze.
But with more power and a heavy four-wheel-drive system, the R lost a little bit of the cheaper GTI's finesse. Still, there's massive all-weather potential on offer here, and with the solid interior of the Mk6 Golf brought to life by a few racier touches, this will be a docile car for the school run but a thrill on typical British B-roads at around half of its original price.