New Car Awards 2014: best advertising campaign
Mercedes Intelligent Drive: 'Chicken' ad is this year's winner for best advertising campaign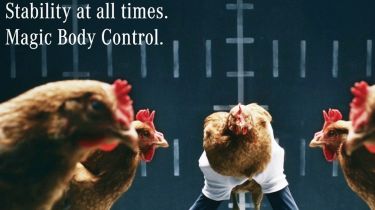 Our first-ever award for best advertising campaign goes to Mercedes, which went for bold with the TV commercial for its new S-Class. Featuring a room full of chickens moving to the beat of a Diana Ross soundtrack, the quirky ad cleverly demonstrates the luxury saloon's Magic Body Control adaptive suspension without ever showing an image of the car.
Developed by German agency Jung von Matt and originally intended only for broadcast in Mercedes' home market, the 45-second film found its way on to YouTube and became an Internet sensation, racking up more than 11 million hits in just nine months.
The idea behind the ad is simple and effective, and perfectly highlights how the S-Class' trick suspension works. As a pair of white-gloved hands moves the chicken's body up and down and side to side, the bird's head stays perfectly level. By contrast, the car uses cameras to read the road ahead and adjusts the air springs and adaptive dampers to keep the body steady over bumps.
Aside from being a neat way to highlight the limo's hi-tech kit, the humorous ad campaign brought the Mercedes brand to the attention of a wider audience – and that's ultimately what every advertising campaign aims to do.