BMW M135i vs Subaru WRX STi track test
The BMW M135i and Subaru WRX STi both have 316bhp and 450Nm of torque, but which is fastest on track?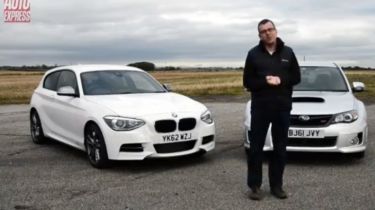 The BMW M135i is one of the hottest hatchbacks ever.
Thanks to its 316bhp six-cylinder engine, 450Nm of torque and rear-wheel-drive setup, the flagship BMW 1 Series is capable of 0-60mph in less than five seconds and won't stop pulling until it hits the limiter at 155mph.
Its competition comes in many different shapes and sizes, and for many different budgets, too. But probably the most closely matched car, on paper at least, is the four-wheel-drive Subaru WRX STi.
The WRX packs an identical 316bhp and 450Nm of torque and costs around the same amount, but which is faster around the track?
We took the pair to Blyton Park in Lincolnshire to find out, so take a look at the video to see which we crowned champion.