BMW M235i vs BMW M3 CSL video track battle
We test the BMW M235i against one of the best M Cars ever made, the BMW M3 CSL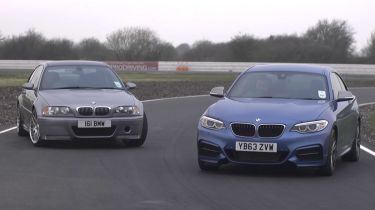 With its 3.0-litre, twin-turbocharged straight six engine, the BMW M235i is the most powerful 2 Series you can buy and is priced at just over £34,000. However, for the same money you can have the modern classic M3 CSL that was launched in 2004.
The BMW M235i's twin-turbo engine produces 322 brake horsepower and 450 Newton Metres of torque. That's 78Nm more than the old M3. It weighs 1,470kg, so it's also 85kg heavier than the CSL.
Launched in 2004, the BMW M3 CSL was the most extreme version of the E46 BMW M3 generation. With a carbon fibre roof, it weighed 100kg less than the standard M3 and it also had upgraded springs, dampers and brakes plus extra power. It also came exclusively with BMW's automated manual SMG gearbox.
The reason the BMW M3 CSL is quite a good comparison to the M235i is because a normal M3 around this age will cost you between £6,000 and £10,000. If you want a decent M3 CSL then you're looking at around £30,000 to £35,000 so it's very similar money. More importantly, you'll get this astonishing engine that revs to 8,000rpm.
• BMW E30 M3 vs BMW 320d video
The BMW M3 CSL's gearbox is very slow by modern standards as it isn't a modern dual-clutch system. However, there's so much balance in the chassis, you can just sense when the car is in transition from understeer to oversteer.
In the M3 CSL, you get an amazing engine that goes ballistic above 6,000rpm but in the BMW M235i, it's just really quick-revving and gets lots of torque through the rev range.
It's heavier than the CSL, but it should come as no surprise as modern cars are getting heavier and heavier. The M235i is still a really lovely road car as it's very delicate and really enjoyable.
However, the BMW M235i does feel a little bit heavy and it doesn't have the body control of the hard-edged CSL. You can feel there in the oversteer when the car comes back, there's a little bit of snapback as the lateral movement in the body starts to make itself known.
Despite the differences between the BMW M3 CSL and the M235i, they both recorded the same laptime around our circuit.
The BMW 2 series makes a more accessible every-day drive, but the M3 CSL is a thrilling classic that's to be enjoyed on occasion, and makes a better investment than your average pension.